As accelerators of food and beverage innovation, Edlong is pleased to continue our partnership with Future Food-Tech as a Gold Partner in 2021.
With COVID-19 and the threat of climate change driving unprecedented demand for more efficient, nutritious and sustainable solutions, there has never been a more pivotal time in the food and beverage industry.
Future Food-Tech's virtual summit, held March 11th and 12th, will bring together industry innovators, global food brands, ingredient providers and investors to grow ideas from concept to reality. New formats, from virtual tours to Ask Me Anything sessions, will be coupled with fireside chats, panel discussions and a plethora of 1-1 networking opportunities to address the biggest opportunities in the food-tech sector.
Keep reading to see what opportunities are on the horizon at FFT featuring Edlong's insights and expertise – and make sure to save your virtual seat today!
Getting More Out of Plants: Entering the Next Phase of Plant-Based Ingredient Innovation
At Edlong, we're committed to forging the future of plant-based dairy flavors and innovations. Get a glimpse into the future of plant-based foods from our President and CEO Laurette Rondenet at the 'Getting More Out of Plants: Entering the Next Phase of Plant-Based Ingredient Innovation' panel discussion on March 12. Tune-in virtually as Laurette and fellow industry change-makers reveal a new generation of plant-based ingredients and breakthroughs that are forecasted to transform the food and beverage industry. Save your virtual seat today to hear from Laurette!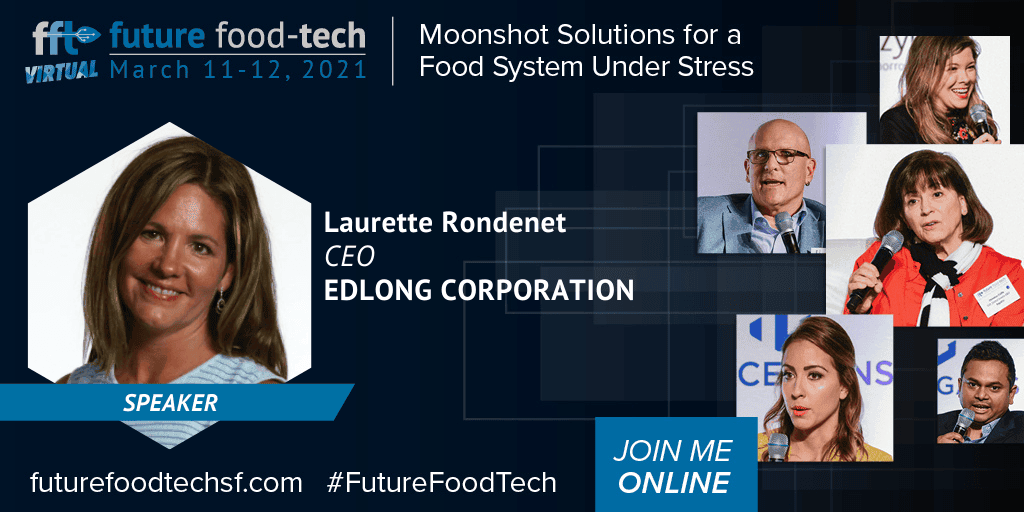 Networking Tables: Sparking Ideas That Catch – Plant-Based Formulation Challenges
Make sure not to miss Edlong's very own on Anne Druschitz, Corporate Research Chef, on March 11, 10am PT for a Q&A discussion where you can share your biggest plant-based challenges as well as discuss future development needs. From creating authentic mouthfeel and improving taste by eliminating off-notes to solutions for flavors that diminish over time and tips for working with different bases, Chef Anne will hit on top challenges and be ready to answer your most pressing questions on plant-based product development.
Chef Anne earned her CRC® (Certified Research Chef) designation from the RCA in 2005 and also holds a BS in Food Studies from NYU as well as an AAS in Culinary Arts from the Culinary School of Kendall College (which is now a part of National Louis University). She has worked in flavor applications for the last 18 years and has been a part of the Edlong team for 13 years. Save your virtual seat today to attend her round table!
Visit Our Virtual Booth To Learn About Natural Flavors Impact On ​Plant-Based Applications + Much More!
Since 2016, there has been a 350% increase in vegan/no-animal-ingredients claims on product packaging. Yet, the number one reason many consumers still say that they choose not to eat plant-based products is because of taste and texture* – which is where Edlong Flavors can make a big difference in your product's chances for success! Stop by our virtual booth to learn from our Sensory Manager Julie Drainville in her video discussing Natural Flavors Impact On ​Plant-Based Applications to see how you can develop products that's taste and texture will have your consumers clamoring for more.
Save your virtual seat today and visit us at the 2021 FFT!
*Source: Innova Nutrition & Health Survey 2020
---