Chicago, IL (Edlong Flavors) – KNOW Women announces Edlong CEO & Owner Laurette Rondenet among winners of the 2023 100 Women to KNOW in America, an annual award recognizing the top 100 female leaders across North America. The 100 Women to KNOW Across America Award, presented by JPMorgan Chase, is a recognition that showcases the most influential, achieved, and honorable women in our society.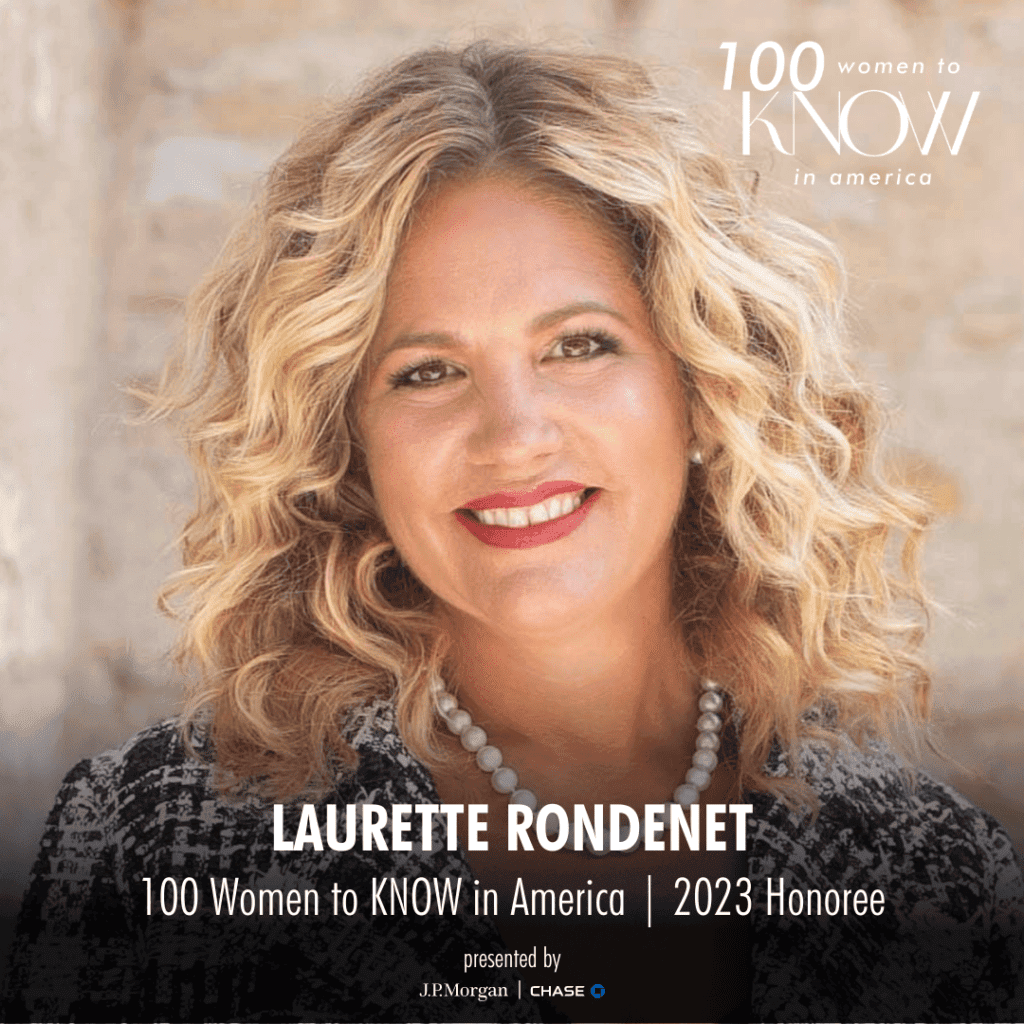 Following a nomination and interview process, these women entrepreneurs, executives, creatives, and philanthropists have been chosen not only because they have realized their own dreams but because they have created boundless opportunities for the next generation of female leaders in the process. These women exemplify what it means to be high-achieving and ambitious on the next level and they continue to pour into their communities as they do so.
"I am truly honored to be among such an esteemed list of fellow female leaders from across the country," said Laurette upon receiving this honor. "I always say 'If you can see it, you can be it' and so I hope this recognition will inspire the next generation, showing them that they too can achieve great things if they are brave enough to follow their passion, lead fearlessly, and own their own legacy."
Under Laurette's leadership, Edlong Flavors has experienced unprecedented growth in the highly competitive flavors category by honing the company's focus in on the taste of dairy. She has also fearlessly led the company to receive multiple Best Places to Work awards, both regionally and nationally, through her passion for making sure that every employee has a voice in our company's work and future.
After launching her new brand in March of 2022, Laurette's glow as a beacon of light for future leaders has grown to reach beyond our industry. From her podcast on leadership calling future leaders to own their legacy to her inspiring and thought-provoking posts on LinkedIn and Instagram that are building a community of like-minded professionals, she is truly kicking down doors. Make sure to follow Laurette for more because she's just getting started!
Honorees will be recognized at the Annual KNOW Women Summit, to be held April 23-25th at The FOUND:RE Hotel in Phoenix, Arizona.
ALL 2023 WINNERS
Candace Nelson – Sprinkles Cupcakes, Los Angeles, California Merrilee Kick – BuzzBallz, Carrollton, Texas
Alison Stine, Stine Wealth Management, Scottsdale, Arizona Alyse Maslonik – RedefinED Advisors, Tyrone, Pennsylvania
Amanda Pietrocola – Momentum Technology, Nashville, Tennessee Amri Kibbler – HeyMama, Putnam Valley, New York
Belén Albuja – Albuja Law, Denver, Colorado
Bernadette M Pello – Florida Trade Academy, Tampa, Florida Betty Hines – Women Elevating Women, Owings Mills, Maryland Bridgette Bello – Tampa Bay Business & Wealth, Tampa, Florida Carolina Aponte – Caja Holdings, Charlotte, North Carolina
Cat Ford Coates – Atelier Unforgettable, Asheville, North Carolina
Celeste Ford – Stellar Solutions Inc and Stellar Ventures, Portola Valley, California Charo Toledo – Charo Entertainment, Los Angeles, California
Cindy Eckert – The Pink Ceiling, Raleigh, North Carolina
Darleen Santore AKA Coach Dar – Performance Meets Purpose, Scottsdale, Arizona Debbie Van Ooteghem – Doe-Anderson, Louisville, Kentucky
Deirdre Tshein – Capsho, Austin, Texas
Dena Patton – Dena Patton Coaching & Training, Phoenix, Arizona Denise Wiggins – Visions of New Hope, Knightdale, North Carolina
Dr. Brendell Thomas Francis – Tamar Community Outreach, Long Island, New York Dr. Jessica Chung – International Business Association for Nurses, Tampa, Florida Dr. Mautra Staley Jones – Oklahoma City Community College, Oklahoma City, Oklahoma
Dr. MelindaJoy Mingo – Significant Life Change, Colorado Springs, Colorado Dr. Sandi Webster – Sandi Webster LLC, Brooklyn, New York
Dr. Sharon Jones – Dottie Rose Foundation, Charlotte, North Carolina
Dr. Zabina Bhasin M.D. – In KidZ, Los Angeles, California Elin Barton – White Knight Productions, Vestal, New York
Elizabeth McFadden – Novella Brandhouse, Kansas City, Missouri Eve Logunova-Parker – Evenness, Atlanta, Georgia
Fabi Preslar – Spark Publications, Charlotte, North Carolina Gloria Mensah – GK Folks Foundation, Salt Lake City, Utah
Heather Polivka – Awesome People Leaders, Richfield, Minnesota Jaclyn Jackson – National Equity Fund, Chicago, Illinois
Jacquelyn Fletcher Johnson – Heartwood Healing, Minneapolis, Minnesota Jaime Taets – Keystone Group International, Minneapolis, Minnesota Janet Cussler – Janet Cussler Car Collection, Phoenix, Arizona
Janet Jackson-Gordon – Boss Chix ATL, Jackson Events & Entertainment and Moonlight Pizza, Atlanta Georgia
Janice A. Jones – Good Earth Minerals, Denver, Colorado Jen Rogers – Hudson West, Scottsdale, Arizona
Jenny Sepulveda – Guaranteed Rate, Chicago, Illinois Jenny Strebe – AIIR, Scottsdale, Arizona
Jill Osur – Teneral Cellars, Somerset, California
Jill Santa Lucia – Catering Works, Raleigh, North Carolina JJ Ramberg – Goodpods, Los Angeles, California
Julie Cole – Mabel's Labels, Burlington, Ontario
Kabisa "Coach Kb" Ceal Starks – Ready To Live Soaps and Ready to Live Coaching, Atlanta, Georgia
Kamela Forbes – Pride Global, New York, New York
Kanika Chadda Gupta – That's Total Mom Sense, Secaucus, New Jersey Katya Libin – Katya Libin & Co., Armonk, New York
Kay M McDonald – Charity Charms, Phoenix, Arizona Kelly Kolar – Kolar Design, Cincinnati, Ohio
Kimleigh Smith – Embrace Your Cape Enterprises, Los Angeles, California Lachi – Lachi Music, New York, New York
Lauren Marturano – Zinnia, Charlotte, North Carolina Laurette Rondenet – Edlong, Elk Grove Village, Illinois Layne Lewis – Willowview Consulting, Eagle, Idaho
Lia Valencia Key – Valencia Key, West Chester, Pennsylvania Marla Isackson – Ossa, Tenafly, New Jersey
Mary Schreiber Swenson – MyMedChoices, Inc & My Smile Choices, Hockessin, Delaware
Melinda Browning – Civic Center Pharmacy, Mesa, Arizona Michele M. Smith – The West Event Space, Tampa, Florida Michelle Cirocco – Televerde Foundation, Phoenix, Arizona Molly Stockley – City of Hope, Phoenix, Arizona
Natalie McGrady – Cargill, Minneapolis, Minnesota Natalie Ruiz – AnswerConnect, Portland, Oregon
Neerja Patel – Neerja Public Relations, Irvington, New York
Nicole Peternel – Rein Communications, Charlotte, North Carolina
Olalah Njego – YellowWood Group, Raleigh, North Carolina
Omenesa Akomolafe – Pearls & Pauls International Foundation, New York Rada Neal – Piano Passions, Green Valley, Arizona
Renate Moore – LadyRen's Bakery & Books, Concord, North Carolina Sarah Valentina Bondzie – Bonne Foundation, Brookhaven, Pennsylvania
Saya Doe Sio – Annie T Doe Memorial Foundation, Charlotte, North Carolina Shael Norris – SafeBAE, Cape Elizabeth, Maine
Sharon Lechter – Pay Your Family First, Paradise Valley, Arizona Shereese Floyd – Witness My Life, Charlotte, North Carolina Sierrah Chavis – Bossy Girl, Suffolk, Virginia
Sindy Zemura – Southern Africa Embrace Foundation, Brampton, Ontario
Stacie Baird – HRtoHX and Community Medical Services, Queen Creek, Arizona Tara Williamson – Pink Ink Tattoo, Louisburg, North Carolina
Theresa Backes – Backes Wellness, San Tan Valley, Arizona Tishamarie Strasser – Bring It-Push It-Own It, Fort Wayne, Indiana
Tracey Greene-Washington – Indigo Innovation Group & CoThinkk, Concord, North Carolina
Trisha Sakhuja-Walia – Brown Girl Magazine, Long Island, New York Victoria L. Woods – ChappelWood Financial Services, Edmond, Oklahoma
2023 HONORABLE MENTIONS
Bernice Feaster – The Scholar Mom, LLC, Charlotte, North Carolina Chasta Hamilton – Stage Door Dance, Raleigh, North Carolina Davita Galloway – DUPP&SWAT, Charlotte, North Carolina
Kate Merrill – B-Lynk, Inc, Tampa, Florida
Kathy Scheil Pavlik – Johnny's Pizza, Raleigh, North Carolina Kristie Nystedt – Atlantic Brew Supply, Raleigh, North Carolina Laura Grier – Andeana Hats, Los Angeles, California
Lilach Mazor Power- Mazor Collective, Phoenix, Arizona
Lorraine Tallman – Amanda Hope Rainbow Angeles, Phoenix, Arizona Lynne Kimmich – Alliance Financial Group, Sarasota, Florida
Michelle Jewsbury – Unsilenced Voices, Tampa, Florida Nicci Levy – Alchemy 43, Los Angeles, California Shannon Keil – The Regent, Tampa, Florida
Tiwana Brown – Beauty after the Bars, Charlotte, North Carolina
The 2023 Annual KNOW Women Summit and 100 Women to KNOW in America Award Gala will bring together dynamic women leaders and business owners from North America for two full days of workshops, panels, networking opportunities, and awards presentations. The celebration will shine the spotlight on honorees, with award presentations at the 100 Women to KNOW in America Award Dinner and Gala, presented by JPMorgan Chase.
The Summit is open to award honorees, KNOW Global members and their female guests, corporate supporters, and all women looking for inspiration and connections in business and career.
DETAILS: For more information or to register to attend the 2023 Annual KNOW Women Summit, visit summit.theknowwomen.com
---