We are delighted to announce that our very own Flavorist Eric Diaz has earned a remarkable achievement by becoming certified by the esteemed Society of Flavor Chemists (SFC). This certification marks a significant milestone in the career of Diaz, as well as an extraordinary boost for Edlong and its customers. 
The Society of Flavor Chemists is renowned for its arduous certification process, recognizing only those who have demonstrated a profound understanding of the science of flavor creation. Diaz's successful attainment of this certification reaffirms his dedication to mastering his craft. It is an accomplishment that highlights his commitment to excellence, which directly benefits our company in several ways.
One of the immediate advantages of having a certified flavor chemist like Eric on our team is the enhancement of product quality. With a deep knowledge of flavor compounds and taste profiles, Eric will play a pivotal role in creating superior and more innovative flavor solutions. Solutions that can not only improve the taste and overall sensory experience of our customers' products but also make them more competitive in the marketplace.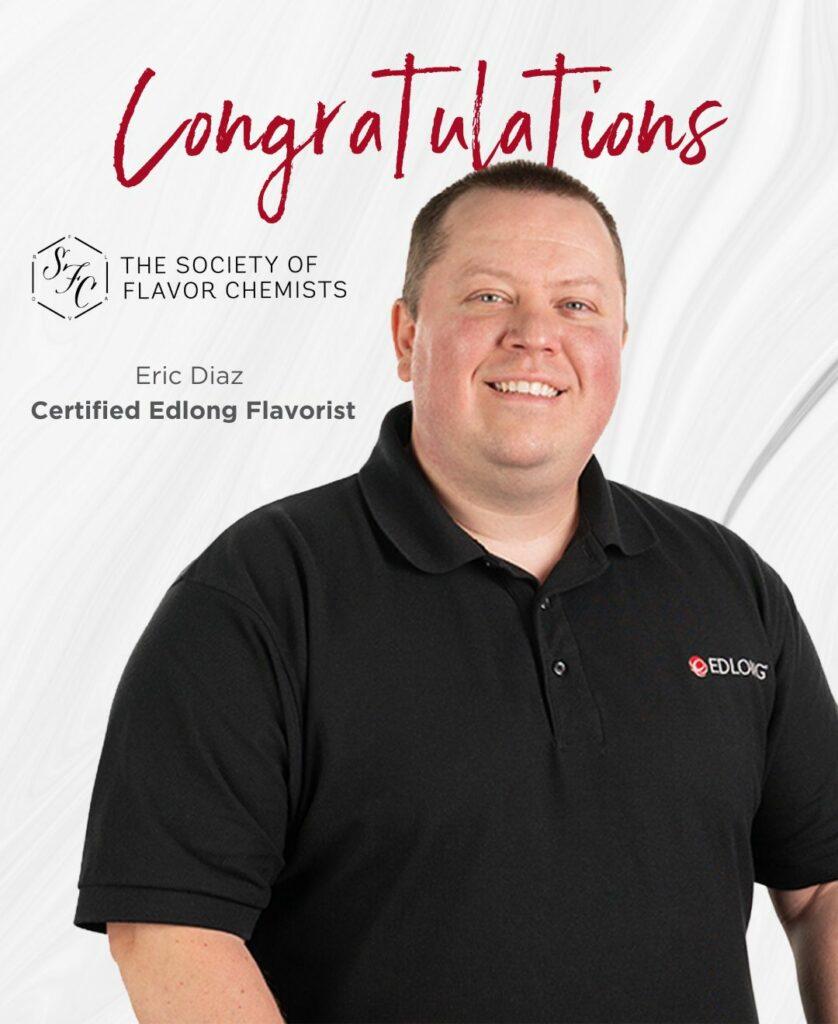 Furthermore, the certification by the SFC brings an unparalleled level of expertise to our company. It solidifies our position us as a leader in the F&B industry as a niche flavor solution provider. Customers can trust that our flavors are crafted by a certified professional who follows the highest industry standards.
As a certified flavor chemist, Eric will continue to contribute to our company's research and development efforts. His expertise will accelerate the development of new and unique flavors that will cater to changing consumer preferences and market trends. This allows us to stay at the forefront of innovation and continue to meet the evolving demands of our customers.
His certification also furthers our commitment to transparency and regulatory compliance. With a certified professional overseeing flavor development, our products will continue to meet and exceed the industry's stringent quality and safety standards.
Diaz expressed his enthusiasm about achieving this certification, stating, "It was something that I sought out for myself. Not every flavor chemist gets certified, even though it's a goal for most chemists. I'm proud to have gone through that process." 
All in all, earning the certification by the Society of Flavor Chemists is a testament to our company's dedication to delivering the highest quality and most innovative flavor solutions to our customers. We are proud of Eric's achievement and look forward to the exciting future he will help shape for our company.
---