Flavors are the secret ingredient to the products consumers experience every day, and the #1 reason consumers purchase a food or beverage. But these same consumers also want to eat healthy.
It is with this in mind that we invite you join Edlong on Thursday, July 9th at 2p ET for the newest episode Food Dive's online Kitchenside Talks, a 60-minute interactive event that reveals how the latest innovations in Organic, plant-based, and vegan dairy and non-dairy flavoring can produce authentic-tasting, consumer-pleasing products.
The event is free, and open for registration now: https://www.edlong.com/kitchenside-talks-registration

Hosted by food editor and blogger Tara Bench, each Kitchenside Talk features industry leaders discussing innovations on the product front and collaborations with leading F&B manufacturers. This episode highlights Sweet Organic Dairy Solutions, guided by Edlong's Anne Druschitz, Corporate Executive Chef and Ashley Sabo, R&D Senior Food Scientist.
Topics include:
Permissible indulgence: food options that taste rich, but have healthier benefits
Global culinary and flavor trends, including plant-based
Balancing Flavor Science and Artistry to recreate authentic dairy taste
About the featured guests: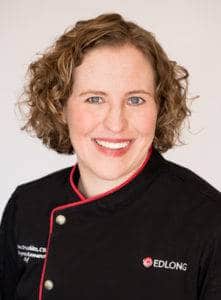 Anne Druschitz, CRC®
Edlong Corporate Research Chef
Anne has spent the past 20 years of her professional career cooking, tasting, and seeking out new trends. Her introduction to the product development side of the food industry started at T. Hasegawa, a flavor manufacturer based in Cerritos, CA, where she spent 5 years as a research chef. Prior to this, she held various positions in both the foodservice and fine-dining sides of the restaurant industry.
Anne earned her Certified Research Chef designation through the RCA in 2005 and holds a BS in Food Studies from New York University as well as an AAS in Culinary Arts from Kendall College. She was elected to the Board of Directors for the RCA and began her board membership this year, currently co-chairing the Education committee.
Anne joined Edlong's R&D team in 2008. Anne's role at Edlong involves flavor applications in sweet and savory categories; technical support for customer projects and new product innovation for sales and marketing presentations.
---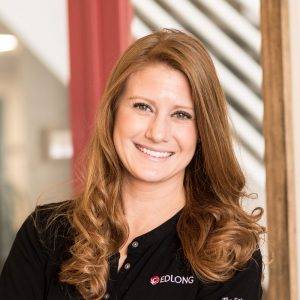 Ashley Sabo
Edlong R&D Senior Food Scientist
Ashley Sabo is an R&D Senior Food Scientist at Edlong, working in the applications lab on customer projects ranging from vegan products to categories from bakery to snacks. Ashley has a degree in Agriculture Economics from the University of Kentucky, a degree in Culinary Arts and Baking and Pastry from the College of DuPage, and is currently working toward a Master in Food Science from Washington State University. While attending the College of DuPage, Ashley was part of the culinary team that won the American Culinary Federation IL State Competition for two consecutive years. She is also a member of the RCA.
---