Who doesn't love a cheesy, buttery, crispy snack? From the initial savory impact to the lingering authentic deliciousness that makes consumers crave more, see how Edlong's butter flavors for seasonings helped our customer develop a snack seasoning that hit their target profile and met their stringent price target.
Help! We Need Butter Flavors for Seasonings
Edlong recently received a call from a customer who develops seasoning blends for major CPG (Consumer Products Goods) companies. They had an opportunity to win a major CPG client's seasoning business for an upcoming project that was missing one critical flavor – a buttery note – so they came to us for a solution. One of their challenges was that their deadline to submit was approaching quickly. We told them not to worry because one of the perks of being a privately-owned, niche flavor house is that we are agile and don't have the same red tape some of our competitors run into.
The Process to a Successful Snack Seasoning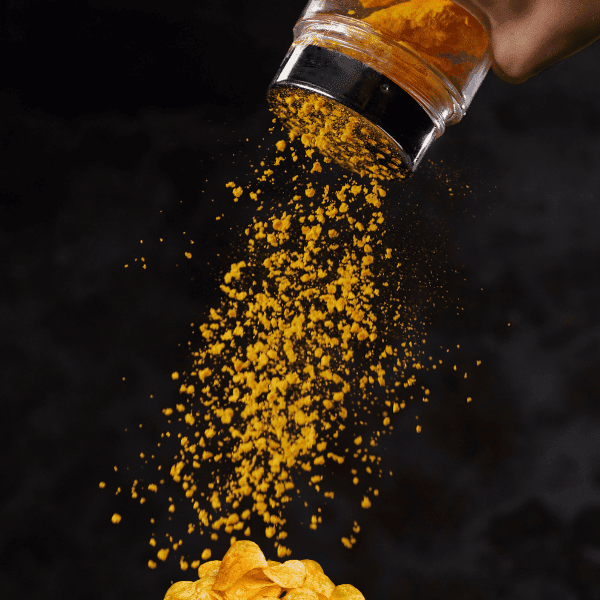 The Edlong team jumped into action and went to work. Our Sensory Manager Julie Drainville met with the customer's sensory team to determine exactly what buttery note was missing. From there, our Senior Flavor Scientist Herb Norton looked up previous similar flavor formulas we had worked on in the past and immediately sent them some samples. Next, our Principal Scientist / Lab Technician Supervisor Renata Rojek and our Applications Manager for North America Monica Gotomo Kapoor met with the customer's Applications team to discuss the formula and potential solutions.
Both Edlong and our customer's team worked furiously to meet the deadline that was approaching quickly with a solution that met their taste target. It was a true collaboration at all levels. Quickly, we had narrowed it down to two potential flavors, but the project wasn't over yet…
Unexpectedly, another hurdle popped up that needed to be overcome to meet the customer's requirements. The final flavor solution decided on was packed in 110-pound drums, but the customer needed it in 50-pound drums. Once again, the Edlong team jumped into action to best help the customer and were able to confirm the 50-pound drum packaging change.
The Result
From there, several weeks of testing were done by the CPG which resulted in success for our customer! The product hit shelves in the marketplace and is now being enjoyed by consumers.
Ready to see how Edlong's butter flavors for seasonings can make your next snack development project a win? Contact our team of global experts today!
---
Topics: Butter flavorsDairy flavorsSeasoningsSnacks & bakery