Did you attend the recent IFT Expo in Chicago? If you did, we hope we had a chance to talk with you, provide some delicious dairy and non-dairy samples, and show you first-hand how we're reinventing dairy. Edlong is the global leader in the taste of dairy, providing the dairy authenticity that consumers expect in new foods and beverages, even in those that are dairy-free.
Reinventing the Gold Standard
Reinventing dairy is about more than excelling in creating dairy taste, although that's a significant part of it! It's also about enhancing, and perfecting, formulations that help food product developers meet healthy global trends without sacrificing taste. Our dairy flavors add richness and sophistication to lower fat, lower sugar and gluten-free foods and beverages. They mask off-notes you find in plant proteins to help develop delicious vegetarian and vegan applications. And they use unique flavor technology to satisfy palates worldwide, even meeting local and regional expectations—expectations that demand authenticity. We also help food innovators commercialize new products faster by improving and shortening the R&D process. In short, Edlong helps chefs and food developers capture the rich, creamy sweetness of culinary indulgence.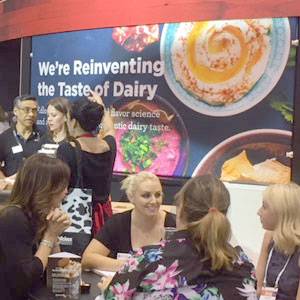 Reinventing Authenticity at the IFT Expo Authenticity Alcove
At our IFT Expo "Authenticity Alcove" we delivered two presentations and tastings. Each showcased how our unique flavor tools reinvent dairy in non-dairy applications.
Dairy-Free: The Culinary Art of Creating Dairy Taste in Non-Dairy Applications
We discussed the growth of global vegan menu trends and application tools that marry culinary inspiration with plant-based products. Our chefs demonstrated how Edlong layers culinology into plant-based formulations in surprising ways by deconstructing the gold standard recipe to provide indulgent taste profiles without the use of natural cheese. We also provided a tasting of our Savory Kale & Artichoke Dip: transforming this classic dairy-based starter into one that's 100% vegan, and 100% delicious.
Clean Label: The Science of Permissible Indulgence
We showed how healthier indulgent options are possible with Edlong technologies in vegan ice cream. We shared key learnings with new natural flavor tools in order to reinvent authentic dairy taste in healthier and on-trend choices. We handed out two delicious vegan ice creams: our classic Vegan Vanilla Ice Cream and our new Vegan "Speculoos-Style" Ice Cream. This was the customer favorite at the IFT Expo, and showcased how Edlong provides both functional and flavor tools for applications based upon plant proteins. Our insights are shortening innovation time for many companies.
If we missed you at the show, we'd be delighted to speak with you more about how we're reinventing dairy, and how we can work with you to perfect your next product innovation. Contact us today to learn more about Edlong flavors.
---
Topics: Dairy flavorsDairy-freeEdlong in the News
Resource Type: DairyConnect