Dairy can be festive! As Americans celebrate Mexican Culture on Cinco De Mayo and Mother's Day is celebrated in Mexico as one of the biggest holidays of the year, we wanted to not only celebrate Mexican culture but also share this delicious authentic Chile Relleno de Queso recipe from our very own Lilia Elizalde, Business Development Manager, LATAM.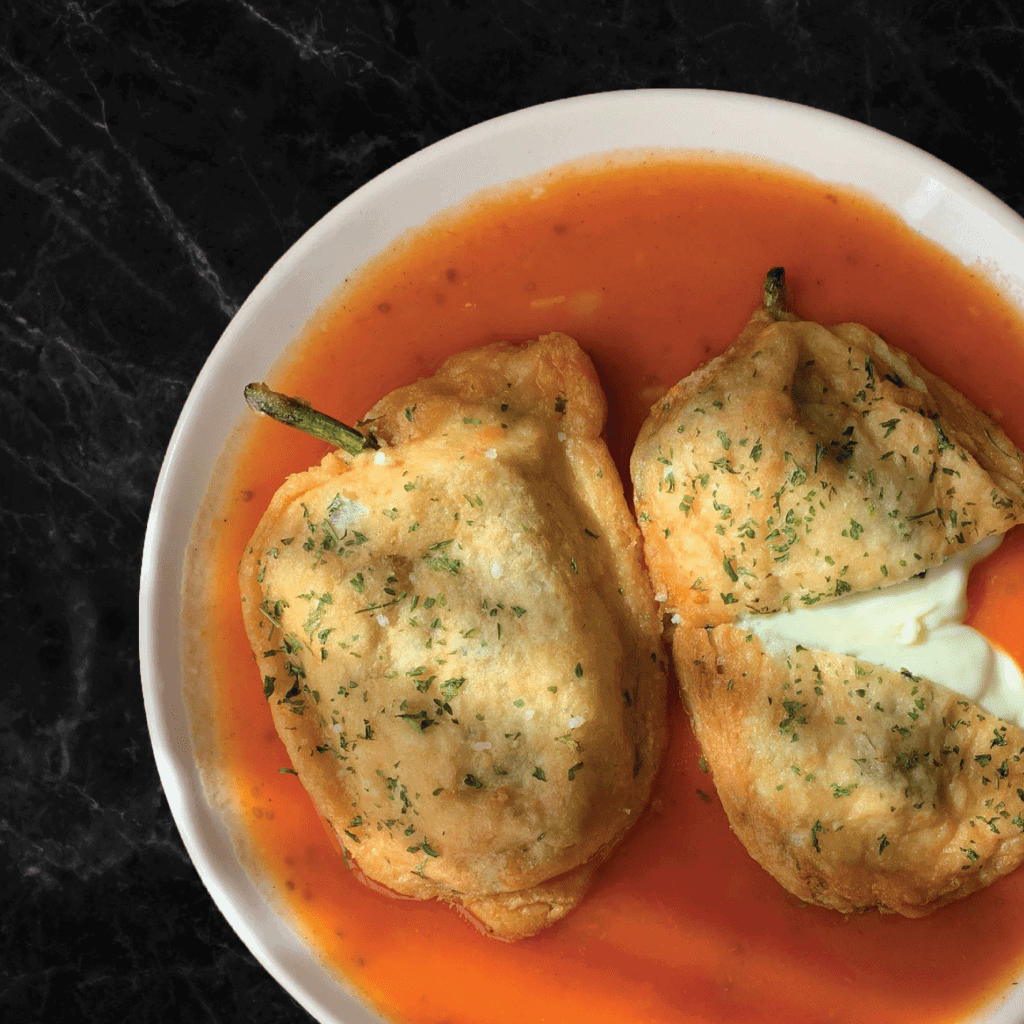 Chile Relleno de Queso Recipe
Details
Servings 4
Preparation time 25 mins
Cooking time 60 mins
Chile Relleno de Queso Recipe Ingredients
FOR THE CHILES
•4 poblano chilies
• 1 pound queso fresco cheese or Mexican Four Cheese Blend
• 3 eggs
• 1 tablespoon flour
• 1 cup oil
FOR THE SAUCE
• 4 tomatoes
• 1 cup water
• 1/2 tablespoon minced garlic
• ¼ small onion
• 1 tablespoon chicken broth powder
• 1/4 cup oil
• 1 tablespoon chopped oregano leaves
Prepare the Chiles:
Step 1 Grill and char the chiles on both sides. Once blackened put them into a plastic bag for 10 minutes to sweat out any moisture. Remove from the bag, slit them down the middle and remove the seeds. Stuff the peppers with the queso and use toothpicks to hold them back together.

Step 2 Separate the egg yolks from the whites. Add the egg whites to a large bowl. Set the egg yolks aside for now and beat the egg whites with an electric beater until the whites fluff up. Add in the flour and the egg yolks and mix until completely incorporated.

Step 3 Add the oil to a frying pan over medium heat. Dip the stuffed chilies into the batter and fry until golden brown on both sides. Remove from the oil to a serving platter.
Prepare the Tomato Sauce:
Step 1 Add the tomatoes and water to a small pot over medium heat. Simmer the tomatoes until soft and stir in the garlic, and the onion.
Step 2 After five minutes, blend the tomatoes, garlic and onion along with the chicken broth powder, then add the oregano.
Step 3 In a frying pan with a little oil, put the tomato that was blended along with the onion and garlic, add the oregano. Cook for 5 minutes.
Step 4 Pour the tomato sauce over the cooked Chile Rellenos on the serving platter, serve, and enjoy!
Looking for a way to develop your own delicious meal or side application with authentic dairy taste? The subtle taste of dairy can bring a meal, sauce, or side to life, adding authenticity and richness to both dairy and dairy-free applications. See how we help our customers create delicious meals and sides using our flavors for consumers everyday!
---
Topics: Cheese applicationsCheese flavorsMeals & meal centers
Resource Type: ArticleRecipe