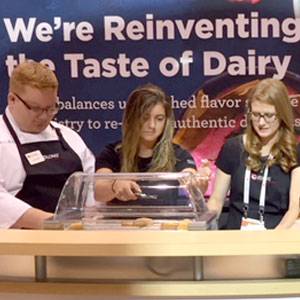 If you stopped by our IFT Expo booth, you saw the smiles. You probably had one yourself. Who could resist a grin after one of our wonderful tastings, and discovering how we can capture the creamy, rich taste of dairy even in non-diary applications? We also had presentations, discussions and lots of great information to share. But the true stars of the show came in delicious bite-sized morsels.
We offered a number of sample tastings and demonstrations throughout the IFT Expo, but here were some of our favorites:

The Science of Versatility
Cottage Cheese Flight: A trio of globally-inspired dips that showcased a cottage cheese base in surprising ways
We raised the protein and lowered the fat without sacrificing layers of flavor, demonstrating how a lower-fat cottage cheese base can create multiple, and distinct taste experiences. These dips all had lower fat, lower cholesterol, lower calories and higher protein than traditional cream cheese-based dip options, but were just as creamy and rich.
Edlong Flavors Used in Balsamic & Feta Dip:

Natural Feta-Type Flavor #1411859
Natural Goat Cheese-Type Flavor #1412941
Edlong Flavors Used in Buffalo Bleu Cheese Dip:

Natural Bleu-Type Flavor #4728
Edlong Flavors Used in Peruvian Dip:

Natural Parmesan-Type Flavor #2631
Natural Cheddar-Type Flavor #1411344
Natural Butter-Type Flavor #1412118
The Art of Dairy-Free
Vegan "Speculoos-Style" Ice Cream & Vegan Cookie Stick: The same taste in two unique vegan formats
We captured the taste of these popular European spiced shortbread cookies in both a snack and an ice cream. This demo illustrated the power of temperature-stable flavors—the flavor profile remained stable whether frozen or baked as well as replacing 100% of the dairy ingredients.
Natural Vanilla Flavor WONF #1413114
Natural Brown Sugar Flavor #4269
The Science of Indulgence
Chicago Style Popcorn Mix: A Chicago-area favorite, reinvented
This Chicago-area favorite mixed sweet caramel popcorn with natural Cheddar cheese-flavored popcorn to provide a delightful mix of savory and indulgent. The natural Cheddar cheese flavor allowed for a significant reduction of commodity cheese; the caramel added rich, buttery notes.
Edlong Flavors Used in Cheese Seasoning:

Natural Cheddar-Type Flavor #1411344
Natural Butter Flavor #1411286
Edlong Flavors Used in Caramel Coating:

Natural Milky Creamy-Type Flavor #1412353
Natural Butter-Type Flavor #1411321
The Science of Delicious
Gouda Pancake Bites: A great snacking option for breakfast or any time of day
These innovative sweet and savory bite-sized snacks featured Gouda-flavored filling from our European Cheese Flavor Collection, hidden beneath a tender pancake coating with our sweet portfolio of maple and vanilla flavors. These portable and fulfilling snacks were served warm and provided layers of complex flavor from the coating to the creamy filling. The format is versatile for a variety of flavor offerings.
Edlong Flavors Used in Pancake:

Natural Maple Flavor #1412598 WONF
Natural Vanilla Flavor #1412655 WONF
Edlong Flavors Used in Gouda Filling:

Natural Cheddar Flavor #1410958 WONF
Natural Cheddar Ingredient  #1412778
Natural Gouda-Type Flavor #1412488
We know reading about our great tastings isn't the same as eating them, but we hope we've whet your appetite for more. We'd love to share how we can balance science and artistry to reinvent authentic dairy taste. To learn how, contact us today.
---
Topics: Dairy flavorsDairy-freeVegan
Resource Type: DairyConnect