Despite the shadow cast by continuing COVID-19 concerns, the 2021 Food Ingredients Europe (FiE 2021) show in Frankfurt, Germany, that took place from the 30th of November to the 2nd of December was a great success. The recurring sentiment from Edlong booth attendees as well as the other exhibitors was that it was "great to be back in-person!" What the FiE 2021 show might have lacked in terms of attendance due to the ongoing pandemic was more than made up for by inspired and engaged food developers who did not disappoint with a range of interesting innovation requests and project ideas.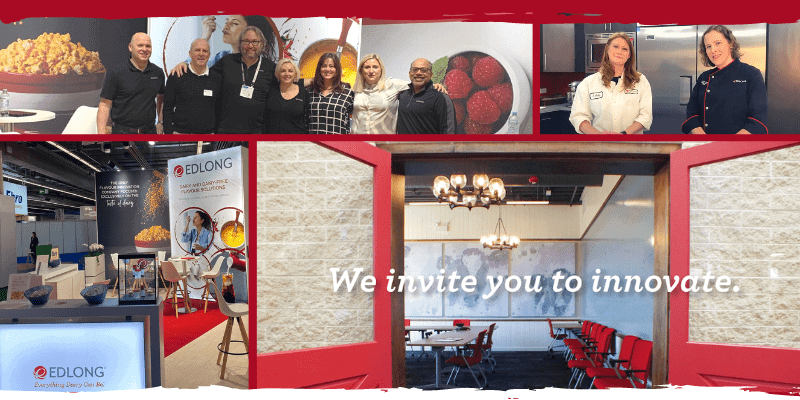 The Sweet and Savory Tastes of Innovation
To help show food manufacturers how dairy and dairy-free flavor solutions could benefit their coming innovations, the Edlong booth featured two prototypes including a crispy plant-based Edam style biscuit with a savoury cheese filling as well as an indulgent plant-based fudge. Both demos were so well received, we were cleaned out of samples! As they say the proof is in the pudding – or in this case, the value delivered by our Edlong flavor solutions was in the sampling.
Brown Butter-Style Fudge Demo
The fudge in particular, a testament to the authentic taste of our butter and cream flavors, was gone before the end of the last day with several people coming back for more!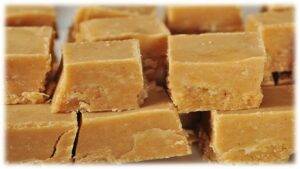 This reinforced the value that Edlong delivers in terms of the depth and breadth of expertly crafted plant-based diary flavor solutions that have a broad applicability across a number of food categories.
Edlong Flavours:
Natural Brown Butter-Type Flavour #1413518 @ 0.30%
Natural Clotted Cream-Type Flavour
Natural Sweet Cream-Type Flavour
Highlights:
Completely dairy-free application with authentic dairy taste
Gives an indulgent mouthfeel
Entirely plant-based application
Allergen Warning:
Savory Edam-Style Cheese Biscuits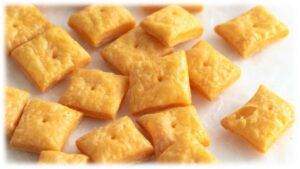 Our dairy-free Savory Edam-Style Cheese Biscuits were also a hit with everyone who stopped by the booth. They expertly captured the authentic taste of real Edam cheese despite being completely dairy-free.
Edlong Flavours:
Natural Edam-Type Flavour
Natural Cheddar-Type Flavour
Natural Butter-Type Flavour
Highlights:
Completely dairy-free application with authentic dairy taste
Crispy cheese-style biscuits filled with authentic Edam taste
Indulgent creamy plant-based filling
Allergen Warning:
The Food Industry's Evolving Competitive Landscape
Like all exhibitors, we also took the time to see what our industry colleagues and competitors had to offer in terms of innovative food ingredients, and we were not disappointed. Some examples that come to mind were the great ingredient functionality at the AAK booth demonstrated in both delicious cookies and a great tasting plant-based Feta cheese to some innovative new launches from Biospringer, Lieber and Innovopro and so many more.
It's hard to pick just one thing that stands out from this amazing three-day event but, after over 18 months spent in lockdown and without travel or in person meetings, I think we can all agree that just being able to participate, connect and reconnect with colleagues, friends, customers and suppliers within the ecosystem that FiE 2021 provided was in itself a highlight.
Plant-based Consumers Seek More
Another resounding theme was the need for high-quality plant-based products in terms of taste, texture and nutrition. This is a growing focus among current and future consumers of plant-based products. It is putting pressure on the manufactures of ingredients to be of high quality while also offering some health functionality, like protein or vitamins, in addition to being clean label and allowing for simplicity in the ingredient deck.
Looking back over the last two years we have all managed to engage and communicate with our customers and suppliers through the fantastic virtual solutions available to us. However, this year, attending the 2021 FIE in person was a much-needed opportunity to meet customers under our 'new normal' setting. Despite the masks, restrictions, and lower attendance due to COVID concerns, the Edlong team returned energized with solid leads, innovative ingredients insights, and a strong validation of the fact that the plant-based trend continues to grow with demand for plant-based solutions that taste great and are environmentally sustainable. The value that our Edlong solutions can and do deliver came through loud and clear and that is a wonderful sentiment to end 2021 and start 2022 with.
Ready to see how Edlong flavor solutions can be a game changer for your products in 2022 and beyond? Contact our global R&D team to leverage over a century of experience, an extensive library of flavors that can be customized to your project, and the nimble agility of our women-led team.
---
Topics: Butter flavorsCheese flavorsCream flavorsCulinary indulgenceDairy flavorsDairy-freeDessertsEdlong in the NewsSnacks & bakerySweet dairy flavorsVegan
Resource Type: Article