Solving The Biggest Plant-Based Food Manufacturing Challenges As Demand For Plant-Based Continues Growing
Consumers are increasingly turning to plant-based diets. For some, it's for health advantages like to lose weight, avoid allergens, or to lessen the risk of other illnesses. For others, it may be due to concern for the environment and meat production's toll on it. Some even look at plant-based foods as a new area of exploration for adventurous palates. And for others, it's motivated by a concern for the ethical treatment of animals. No matter what reason draws people to increase their consumption of plants and decrease—if not eliminate—eating meat and other animal based products, food manufacturers are taking the lead to create plant-based foods that meet the needs of consumers.
But to truly achieve plant-based success with a wide variety of consumers, food manufacturers must do more than create foods that are merely palatable or that are only a decent substitute for their animal-based alternatives. Food manufacturers have the opportunity to use flavors, textures, and nutritional advances to create plant-based foods that are so satisfying, they become not just a substitute, but a standalone preference.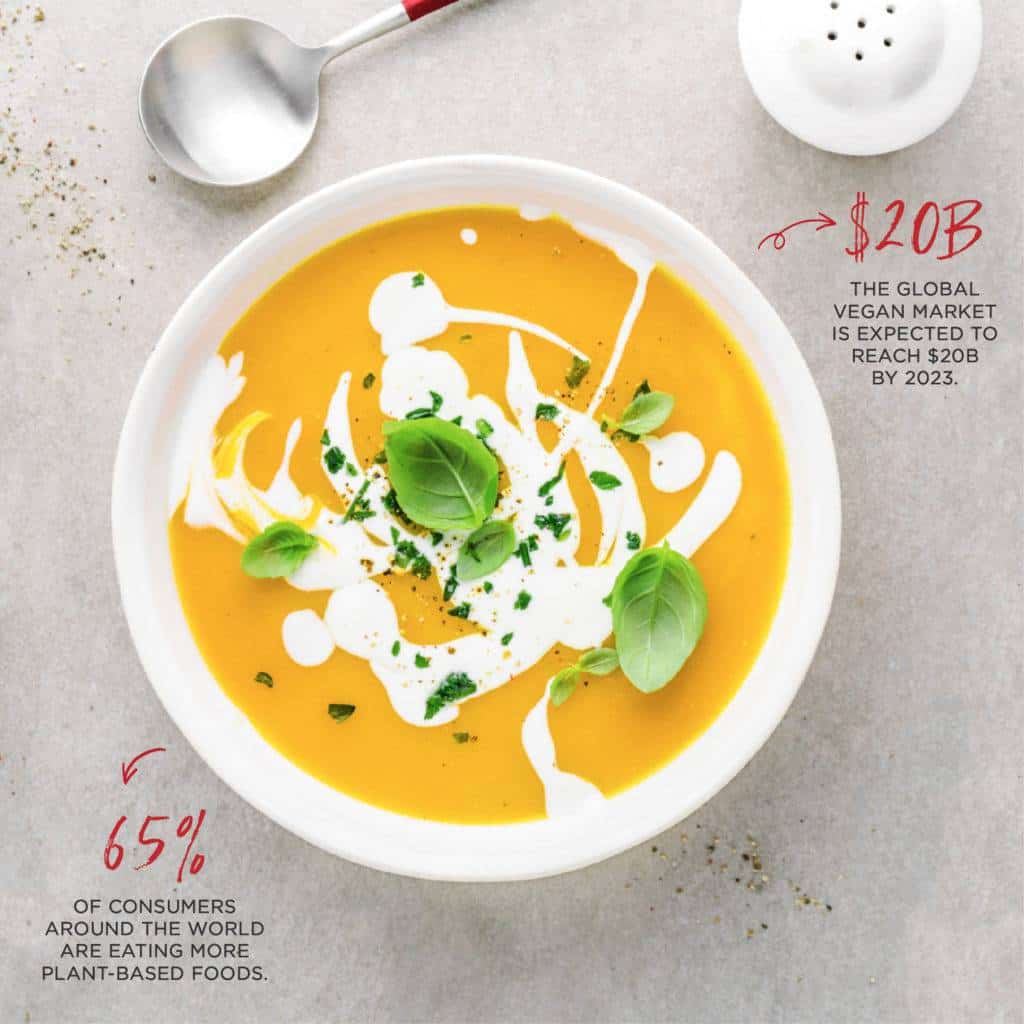 Filling the Plant-Based Plate
Consumer demand for more plant-based foods isn't as much a trend as it is a lifestyle shift. Nearly 65% of consumers around the world are eating more plant-based foods. In fact, they are eating so much more that the global vegan market is expected to reach $20 billion by 2023.
Not surprisingly, millennials and Gen Z lead this movement, but consumers of all generations are increasingly becoming "flexitarians" and eating less meat, dairy, eggs, etc., and more plants. U.S. plant-based retail sales are climbing five times faster than overall U.S. retail food sales, with the majority of that growth coming from plant-based meat and dairy.
Food scientists and manufacturers need to consider a variety of variables when it comes to creating and delivering on delicious plant-based foods.
Creating Plant-Based Foods That Taste Delicious
Plant-based food manufacturers can position their products to succeed by considering flavor, mouthfeel, and function. "As formulations are created, it is crucial to get the correct ratio of essential ingredients to optimize your product based on targets," says Julie Drainville, Senior Sensory Scientist for Edlong.
Read the full Filling The Plant-Based Plate e-Book for more information on how food manufacturers can make crave-worthy plant-based products.
---
Topics: Dairy-freeVegan
Resource Type: ArticleInfographic