Hearing a term like innovation adoption curve likely brings to mind technologies like smartphones, electric cars, or even AI. Food and beverage products, on the other hand, are probably the last thing you'd ever think of.
However, the concept of tracing innovators, early adopters, etc., and understanding their needs as consumers provides fantastic insights for the food industry. This is especially true when it comes to the growing segment of plant-based.
Despite their rapid expansion across store shelves, plant-based foods are still in the early stages of adoption. While there might be some debate on where exactly along the predicted S-curve we find ourselves or when the tipping point might come, it is safe to say that future growth will come from appealing to the remaining early adopters, particularly to flexitarians.
On a positive note, the desire for these products is clear, with 1 in 2 U.S. households already buying plant-based products and 72 million U.S. households meeting the criteria to be considered flexitarian.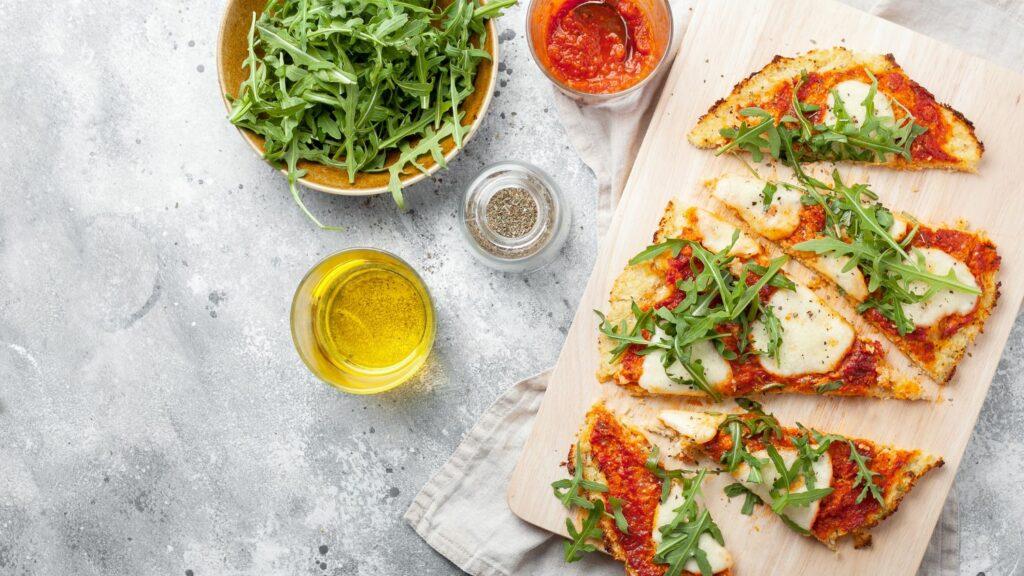 Yet, upon closer evaluation, even these households still bought animal-based products six times more than equivalent plant-based categories.
When looking at plant-based dairy (roughly half of total plant-based sales), only 5% of consumers claim to purchase exclusively plant-based, with 24% saying they buy a combination of plant and animal-based products.
The data clearly shows that increasing the number of flexitarian consumers isn't just a good idea; it's necessary for the continued success of the plant-based and alternative marketplace.
This starts by genuinely understanding the opportunities and issues facing these consumers when it comes to wholeheartedly accepting these products into their lifestyles.
Appeal To Younger Generations
Although flexitarians exist across all demographics, it is clear that the demand and appeal of these products are greatest among younger generations.
For example: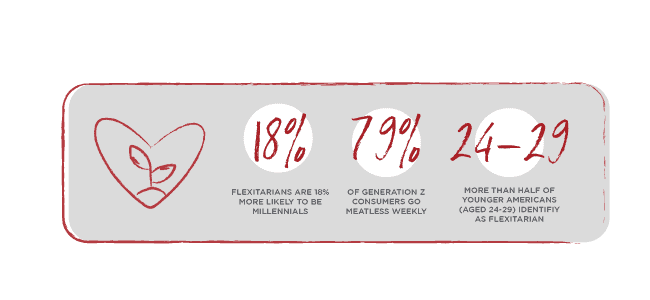 With Gen Alpha (the children of Millennials) starting to becoming purchasing consumers themselves over the next decade, creating intergenerational in-roads is essential for future success.
Addressing the flexitarian fervor of these younger generations by developing offerings that can appeal to families and young parents is an opportunity that can't be missed.
Looking at novelty in flavors, textures and forms that can help shape younger generations' perception and acceptance of plant-based foods should be at the forefront of food developers' minds.
Moreover, addressing the following keys can be a game changer for consumers on the fence about what these products can offer them.
Show Real Value: Nutrition
According to Innova's Trends Survey 2023, the top two reasons why consumers said they chose 100% plant-based alternatives are that they view them as healthier for themselves and the environment.
However, with both, the dairy and meat industries refusing to waive the white flag just yet by working on ways to lower the impact of their practices, the plant-based dominance of sustainability claims in the minds of consumers might soon start to wane.
Still, when it comes to nutrition, 44% of flexitarians say they purchase plant-based products because they believe them to be healthier, and 38% purchase them specifically for their health benefits.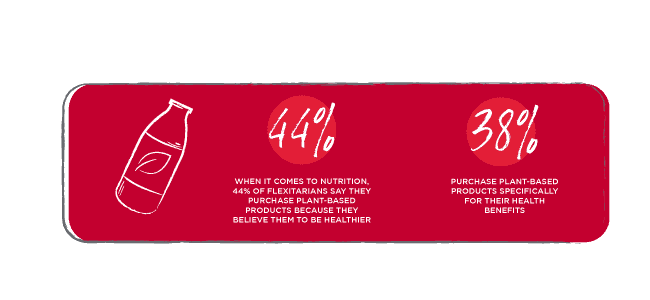 Some wonder if this perception is partly due to a "health halo effect" coming from the perception that plants are the healthier choice.
While some products may indeed be healthier, upon further inspection, alternatives to animal products may sometimes lack the same quality and availability of certain nutrients, more specifically, high-quality protein and specific vitamins and minerals.
Working to close the gaps where they still exist and offering transparency on the true nutritional value of your products is essential for building trust with flexitarian consumers and justifying their choices.
Unfortunately, working to increase nutritional value through fortifications can create taste and texture challenges that make the final key that much trickier.
Promise What You Can Deliver
The biggest issue when appealing to flexitarian consumers is simply living up to expectations.
These consumers often gravitate towards taste preferences shaped by the animal-based products they are familiar with, and that is what you are contending with.
But, to put it bluntly, there are examples where some food companies messed up. By over-promising and under-delivering on expectations, some disappointed consumers are refusing to give these products a second chance.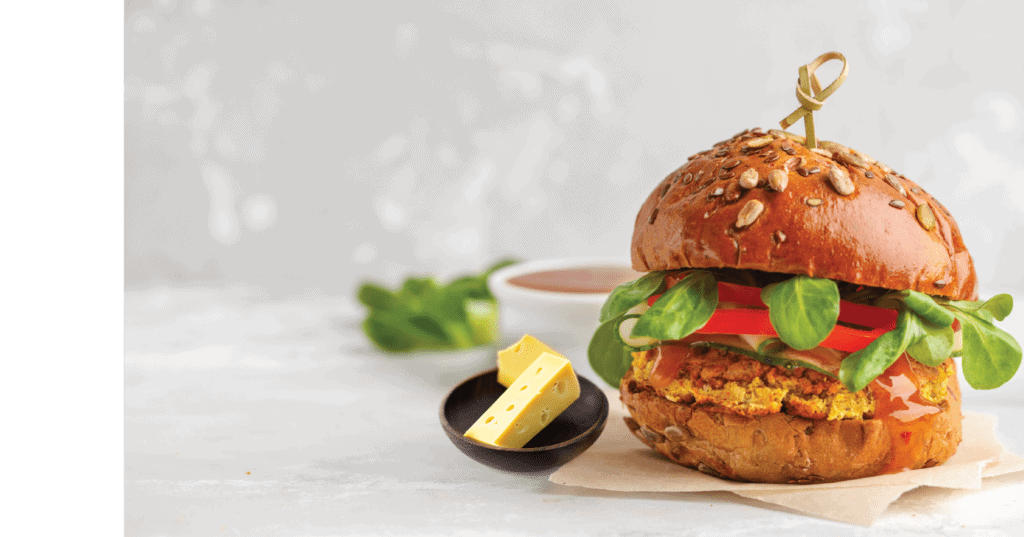 According to data from SPINS and the Good Food Institute (GFI), taste remains the biggest barrier for consumers, with 50% stating that as why they stopped buying these products.
Perhaps even more telling is that 25% (the #2 answer) of them stopped purchasing plant-based dairy products because they "didn't meet expectations". All this is before considering that "taste" was also the number one reason consumers haven't even tried these products in the first place.
This perceived lack of authenticity might be most apparent when it comes to plant-based cheeses. In an Unmet Needs survey from the Plant-Based Foods Association (PBFA), 73% of participants agreed with the following statement: "l wish there was a better plant-based cheese alternative that tasted like regular cheese, melted well, and didn't have a grainy texture."
At the same time, these are growth terrains where companies can do better, investing into technical solutions that delight consumers and ultimately win in the marketplace.
It's not about managing expectations; it's about setting new ones
By focusing on meeting the emotional and functional needs of the flexitarian consumers, you have the opportunity to not only improve your products with targeted renovations but also develop innovative and novel taste experiences that excite.
Nothing unlocks this like the power of flavor.
As an innovative leader in dairy-free dairy type flavors for over four decades, Edlong can help developers overcome their plant-based challenges and turn your hesitant "early adopters" into long-term consumers.
About the Author: Dr. Bernd Koehler, Global VP of R&D
Bernd has more than 20 years of international leadership experience in the food and analytical services industries, including Mars-Wrigley and McCain Foods. He is known for his ability to align technical capabilities with business needs using scientific methods, data, and creativity. He also has a passion for blending people and technical expertise to fuel growth and profitability. Bernd received his Dr. rer. nat. degree in Food Chemistry from the Bavarian Julius-Maximilians-University in Wuerzburg, Germany.
---
Topics: Plant-BasedPlant-Based Pro Series
Resource Type: Article
Resource Region: EULATAMUS