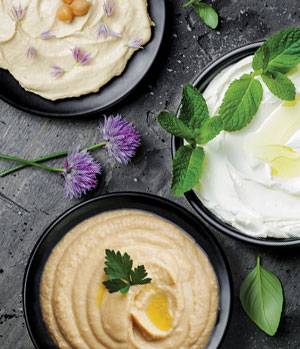 What is "Culinary Indulgence?" For consumers, it's a creamy golden latte, it's toasted coconut s'mores, and it's fudgy chocolate cake with a rich caramel center. For product developers, "culinary indulgence" is a challenge: how to deliver those premium culinary experiences while managing costs, appealing to regional tastes and satisfying growing consumer expectations for authentic profiles. For Edlong, "culinary indulgence" is a mission: it's ensuring the latte, s'mores and cake have authentic taste, and we can add indulgent dairy richness even in dairy-free and vegan applications.
Keeping an Eye on Cost and Production
Delivering authentic and indulgent taste, on a broad scale, has often meant the need for expensive commodity butter, cream or cheese. The reduction of these elements can play a large role in the profitability of a product, but reducing costs while maintaining expected taste profiles can be a challenge. Edlong's broad flavor portfolio provides a variety of solutions to deliver culinary indulgence with lower cost-in-use. Those flavors can replace foundational butter and cream ingredients without sacrificing dairy authenticity. Our concentrated butter, milk, cream, cultured, sweet dairy and other flavors also deliver indulgent impact in healthy reduction formulations, without impacting nutrition.
Simplified Production
Many food developers worry that their ingredients may need to change to provide stability through every stage of processing, packaging and storage. They spend valuable R&D resources ensuring products can be produced with repeatable formulas that deliver optimal consistency, without compromising taste. There's an easier way, though: call Edlong. Our flavors, including 250 dairy-free and vegan flavors, are created with an eye on production functionality. Our flavor scientists incorporate research and flavor tools to support our product development process through sensory analysis. The goal is to conduct reliable tests that provide data to make sound, informed decisions, and create delicious, functional solutions.
For example, we recently developed an Almond, Gouda & Cherry Bar. Our goal was to create an on-the-go protein bar that was entirely plant-based, mess-free and healthier. We used chia seeds, dried cherries and authentic gouda taste to add surprising layers of savory, nutty and sweet in our bar, which was not only delicious, but also used heat-tolerant ingredients for improved processing.
Global Preferences
It's important to deliver products that appeal to regional and global preferences, which is another reason why the versatility of dairy flavors is so useful. Edlong offers more than 200 cheese flavors in more than 40 global profiles, from fresh to aged, from zesty Parmesan to nutty Emmental, including vegan, dairy-free and region-specific varieties from Europe and Latin America.
At IFT we showcased a trio of vegan, plant-based dips, and discussed how our dips can be adapted for a wide variety of products and different flavor profiles. Each dip started with a cashew base created in our research lab. We took this base in three very different culinary and global directions using regional spices and natural vegan and dairy-free flavors such as Emmental, Gruyere, sour cream and butter. The results were three distinct options with regional taste differences: an Aji Amarillo Emmental Dip, a Butter Curry Dip, and a Vegan Zesty Sour Cream Dip.
You can easily find the authentic natural cheese profile you're looking for in our Edlong® DairyLink database.
A Balance of Culinary Indulgence and Healthy
The May, 2019 edition of SF&WB magazine reported on the importance of pairing healthier and indulgent. In the article John Fisher, the R&D manager of Boston Baking was quoted as saying, "Consumers are becoming increasingly aware of what they are eating. With the use of the right ingredients, we can produce desserts that fit the needs of the consumer without compromising on taste." It is this marriage of good-for-you and good taste that is the key to delivering culinary indulgence, and is what Edlong helps product developers do every day. We're committed to helping food product professionals understand how authentic, natural flavors can be used to deliver the culinary indulgence consumers want. Never satisfied, we are continually tapping into new resources to develop culinary indulgence while meeting formulation goals.
---
Topics: Culinary indulgenceDairy-freeVegan
Resource Type: Application ExampleThe Art of Flavor