Consumers are increasingly falling in love with plant-based foods, and the data shows it: Over the past five years, vegan and no-animal-ingredient claims on product packaging have increased 350%. With health at the top of consumer minds, natural plant-based flavors can help keep labels clean and consumers happy.
Yet, many consumers still say that they choose not to eat plant-based products because the taste and texture comes up short. Dairy Foods reports that – across every age group – taste continues to be the top driver for purchases from non-dairy creamer to dairy-free frozen desserts, and there's no reason to believe that consumer demand for authentic-tasting dairy alternatives will do anything but grow.
So, how can your plant-based product win consumers' love at first bite? We sat down with Edlong's Sensory Manager Julie Drainville to get her perspectives on the impact that natural flavors can have on ​plant-based applications – and how food and beverage brands can develop plant-based products with the authentic tastes and textures consumers crave.
Q: Thank you for joining us today, Julie. Let's talk about dairy-free products. Demand continues to grow, as does consumer demand for authentic taste. What's your overall perspective?
JULIE: Thanks for having me. The fundamental challenge with plant-based is incorporating flavors that help provide a comprehensive solution. Taste is, of course, key – but secondary considerations such as texture, masking bitter off-notes that are common in plant-based ingredients, and creating an authentic mouthfeel perception are what make all the difference. When consumers talk about "genuine" or "true" taste, they're talking about the entire sensory experience. Having the right natural flavors and knowing what to do with them is how brands can check all the boxes to create an authentic taste experience.

Q: Looking specifically at plant-based cheese, how can food and beverage producers overcome the complex challenges that are unique to this category?
JULIE: Developing natural dairy-free flavors designed for this specific purpose is a first step, but it's the blending and layering of flavors that creates the authentic cheese flavor profile consumers are looking for. This is especially important if you're looking to replicate a specific flavor – be it from an existing product in the market or a nuanced regional profile. And if you're adding something like protein, which can result additional off-notes, it's crucial to use the appropriate masking flavor(s) to cover up and balance those notes as well. Whether it's milky, creamy, buttery, or cheesy – it's the combination of flavor and functionality that creates an authentic cheese experience, especially in plant-based products.
Q: Can you share an example of how using natural flavors has produced the desired outcome?
JULIE: Recently, our scientists developed a base with added pea protein for one of our clients and included acids and yeast extract to build a fuller flavor. Then, our flavor chemists designed a flavor to match the base, including milk and butter notes for masking and a mature cheddar flavor that provides the authentic characterizing cheese flavor.
Q: Sounds delicious. Are there any ways that you're able to reduce the guesswork as to how a plant-based application will be received by consumers?
JULIE: Edlong uses trained sensory panelists to validate that our flavors are performing as intended. A scientific descriptive analysis panel we've created provides data on how our work impacts 15 attributes deemed important to authentic flavors and textures. Our scientists look for how natural flavors are increasing desired notes like butter, yeast, fruity, lipolytic, butyric and umami; and decreasing off-notes like starch, bitterness, clay, and vegetative.
Q: So, you can tangibly see how your work is influencing a product's profile and how consumers will respond.
JULIE: Exactly. We also use a method called TCATA that allows us to look at the flavor profile over time. For example, when you chew a piece of cheese, the flavor releases and changes. With cheddar, you might experience cheesy, yeasty, umami notes upfront, followed by a smoky aftertaste.
Q: And this is important to consumers?
JULIE: Absolutely. They may not be able to speak to it, but they know it when they taste it. As you can see in this chart, there are changes that occur over time that affect a consumer's perception of the finished product. The peaks change in the flavored vs. unflavored version. The natural flavors really change the profile of a plant-based finished product – in exactly the ways consumers want them to.
Q: Earlier you mentioned texture as being key to the consumer experience. Can you tell us a bit more about that?
JULIE: It truly is. When you reduce the sugar in a beverage like a milkshake, you not only lose the sweetness perception, you also lose the fullness in the mouth that sugar creates. Our natural flavors are designed to bring fullness back by increasing some of the perceived viscosity. In a recent test, 69% of participants said the Edlong-flavored beverage sample was thicker and 71% said it was creamier than the unflavored version. This is extremely important for products like plant-based milks, cheeses, yogurts, and spreads, where consumers expect that real dairy mouthfeel.
Q: Thank you for insights Julie. For food and beverage leaders looking to discover how Edlong can help improve their plant-based products, how might they learn more?
JULIE: My pleasure – feel free to reach out to us directly or watch our video that discusses Natural Flavors Impact on ​Plant-Based Applications. Edlong has one of the world's most expansive flavor libraries, over half of which is dairy-free, and we've been innovating in the plant-based space long before it became the trend it is today. We're eager to leverage that expertise and our resources to help you develop plant-based products with authentic taste and texture.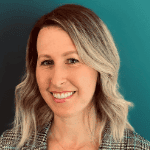 Julie Drainville, Edlong Sensory Manager, leads all sensory functions for Edlong globally. In her role she is responsible for conducting research, maintaining a trained employee panel for sensory testing, and collaborating with applications scientists and customers to run testing to meet project needs. Julie has an extensive background in food science including over 14 years in the sensory field, a degree from Purdue University in Foods, Nutrition and Business/Dietetics, a Master of Science in Nutrition Education from Rosalind Franklin University, and completion of the UC Davis Applied Sensory and Consumer Science Certificate Program.
---
Topics: Dairy-freePlant-Based
Resource Type: Article