The Edna's Reserve Story of Innovation
At the 2022 IFT First show in Chicago this July, we took the opportunity to propose a new way of thinking about the future of plant-based.
If you stopped by our booth at IFT, hopefully you took advantage of tasting our dairy-free demos which showcased how you can bring the authentic taste of real dairy to plant-based products. Behind the scenes, we were hosting a totally different tasting experience in speakeasy-fashion, with liquor and all! The concept behind it made us one of only 8 exhibitors to be featured in Food Navigator's Trendspotting at IFT First 2022 article.
Our R&D team developed a delicious tasting yet completely dairy-free cheese eating experience, expertly paired by a sommelier with the perfect wine, that strove to show participants how the future of the plant-based space could be focused on innovating rather than replicating.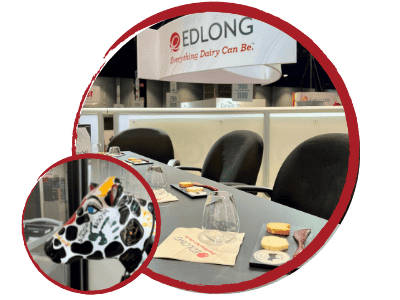 We called it 'Edna's Reserve' after Edna, our Edlong cow statue in our US HQ. Edna's Reserve is a plant-based cheese style product which honours the ingredients used to make it and provides a unique sensory eating experience. The feedback we got ranged from surprise to delight but always included an impressed 'WOW!' from tasters, with one participant even saying "No one else is doing anything like this right now."
At Edlong, we're continuing to leverage over a century of experience in the taste of dairy to lead the way in forging a new dynamic in the food and beverage space for consumers. With new unique ingredients coming to life every day, we believe consumers deserve more than replication and imitation. They deserve renewed eating experiences that excite taste buds and bring people together around foods that are unique, innovative, sustainable, and healthy.

The Future of Plant-based
If this sounds like we're flipping the script, its because that's exactly what we're suggesting! You may be asking, "What they heck does that mean?" Imagine instead of creating a plant-based Cheddar cheese for consumers that strives to meet the taste and texture of a real Cheddar cheese, picture the endless possibilities of creating an animal-free product atop a cracker that simply tastes great because of its expertly curated real dairy notes which pair perfectly with your favorite wine for an indulgent overall eating experience after a long day of work. The best part is, the concept can apply to any application, possibly even one that has never been thought of before!
Are you ready to innovate? Contact our team of global experts today to get started seeing how this concept of innovate rather than imitate can be use in your next product and embrace the future of plant-based!
---
Topics: Cheese applicationsCheese flavorsDairy-freePlant-BasedVegan