A Letter From Our Global Edlong R&D Team
As we close out 2021, we want to thank all of our customers for being an integral part of the Edlong story last year. In a year filled with ups and downs, whether that be from the ongoing COVID pandemic to the return of travel, now more than ever, we as consumers are focused on our food being nutritious and environmentally sustainable without sacrificing taste – especially when it comes to sweet treats that often require sweetness enhancement.
The Edlong team embarked on a taste-at-home journey to explore the diversity of regional taste preferences across the globe. A journey is no fun without the right travel companions, so we decided to bring our customers along with us. Thus, was born the 'Edlong Global Tasting Tour' (GTT).
This GTT is intended to be a thought-provoking exploration into the furthest reaches of everything dairy can be! We didn't expect everyone to like every flavor presented. In our own unique Edlong way, we wanted to unite our global customers on this tour allowing each "passenger" the ability to taste the breadth of our capabilities when it comes to capturing regional profiles and to experience the difference it makes to work with a company that has been expertly delivering flavor solutions for over a century. The GTT is also an opportunity for us to catch up with you, our valued customers, and get a better understanding of how Edlong can help you realize your own strategic growth plans.

Sweetness Enhancement Success: GTT Caramels
The second leg of our GTT was a flight of plant-based Caramels with a standard common base but featuring regional profiles from around the globe – chewy and indulgent treats shipped just in time to kick-off the holiday season. While Edlong is well-known for our dairy flavor profiles, we were especially excited that this tour allowed all of you to get a taste of our expansive capabilities in both plant-based dairy flavors and sweetness enhancement, including our sweet brown flavors. Additionally, to showcase the heat stability of our flavors, this plant-based caramel was made with flavors added at the start of the process and cooked to a temperature of 120°C (248°F) for over an hour without losing any flavor impact.
The feedback received from you – our global customer base of tasters – was very positive! It highlighted that you, and in-turn likely your consumers, expect the type of regional authenticity that can easily be captured with the breadth of flavor solutions in our portfolio.
Regional Preferences Prevailed… Usually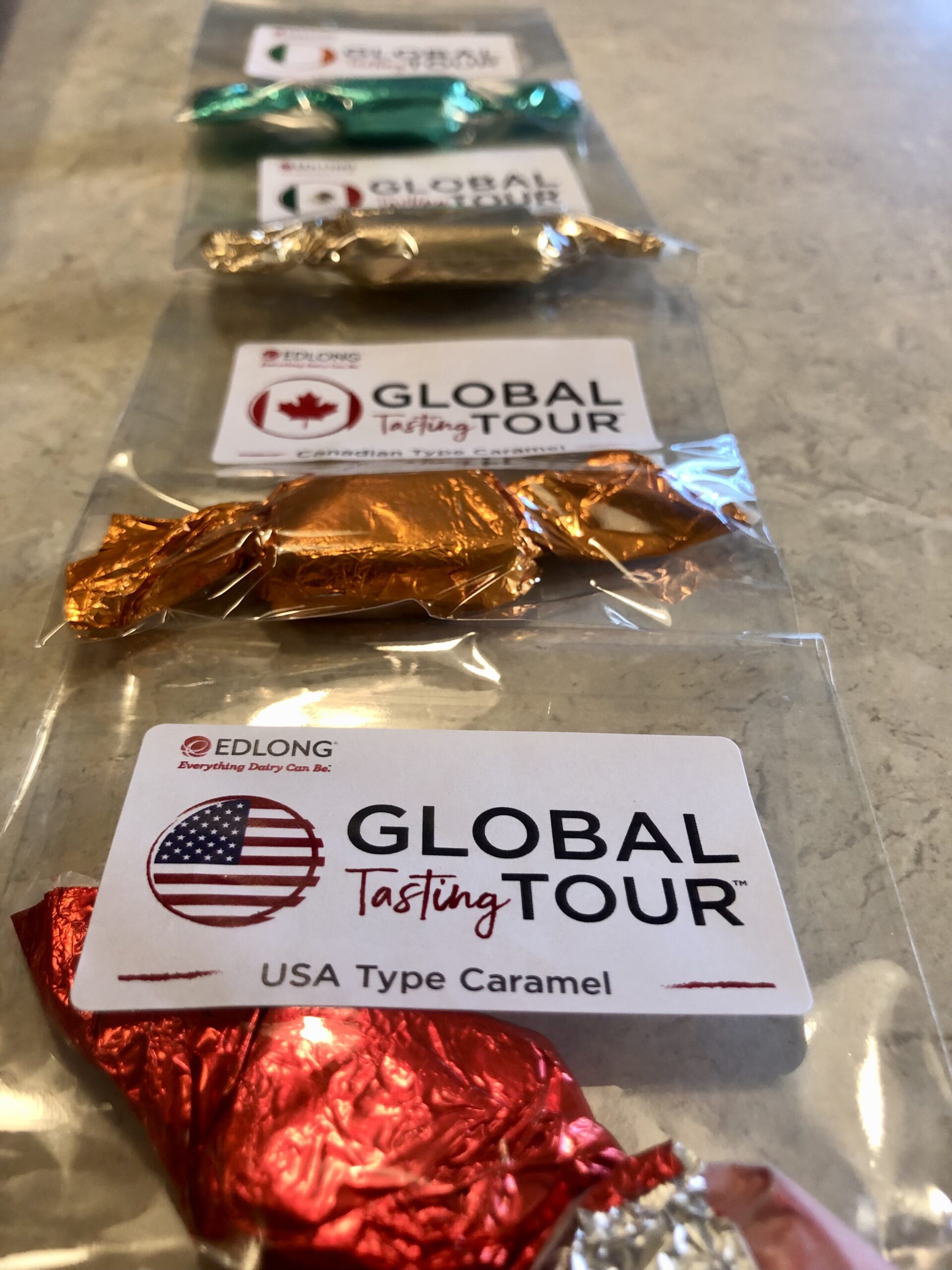 Globally, the most preferred caramel profile was that of Canada, which showcased a sweet Edlong Maple flavor.
Our US and EU customers found the Mexican profile least appealing, with its Goat Cheese flavor added to develop the signature animal notes commonly found in Cajetas which are loved in LATAM.
Our Latin American customers rated the Irish profile the lowest, reiterating the diversity in taste preferences across regions and ultimately the need for diverse dairy profiles to meet consumer needs.
What we heard from all of you the same though was that being able to deliver relatable regional flavor profiles is of utmost importance.
In addition, you shared that masking, mouthfeel, and sweetness enhancement are all top of mind when developing plant-based food and beverage products. Rest assured, with our team of global R&D scientists including ones who specialize in sensory science, that these are all areas where Edlong excels; we understand how essential they are to launching successful products in the plant-based space.
We are excited to continue our GTT with all of you in 2022! We hope that you all were able to take a break and savor the joys of the holiday season with family and friends. Get excited for what's to come in 2022 as we continue our Global Tasting Tour with more to come in the coming months!
As always, until we taste together again, don't hesitate to reach out to our R&D team with your development questions or to contact your local Business Development Manager about joining the next leg of the tour.
---
Topics: Dairy-freeDessertsPlant-BasedSweet dairy flavorsVegan