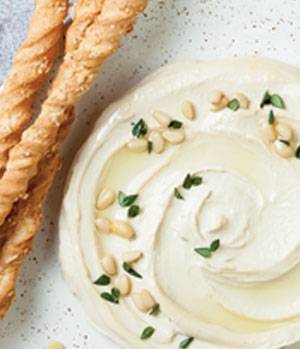 At Edlong our focus is on the creation and application of authentic dairy flavors. Dairy flavors are unique in that they not only impart the authentic taste of dairy to foods and beverages, but our flavors also provide unique functionality including mouthfeel and masking, which are particularly useful in plant-based applications. And with 65% of consumers eating more plant-based foods, these functional benefits have never been more important.
Masking
The commercial success of a plant-based product depends largely on its taste, yet plant-based proteins have many undesirable characteristics. As online magazine Nutritional Outlook reports, "the unpleasant taste of proteins derived from plant sources is often hard to endure … Rice, pea, and chia are all very popular sources of plant-derived proteins, but they all have unique, inherent off-tastes, bitter notes, and vegetative aftertastes." Fortunately, Edlong's dairy-free and vegan flavors can mask those flavors when they are added early in the product development process, effectively bringing the base back to neutral. Laura Enriquez, Vice President of Global R&D – Applications at Edlong, says, "Often developers only consider flavors at the end of the product development life-cycle process as a way to mask undesirable attributes. But the key is strategically working with flavors at the onset." Additional flavors can be layered in for added benefits. For example, we recently created a rice and pea protein-based beverage which not only neutralized the native off-notes, but incorporated an Edlong® Sweet Spot flavor to impart the inherent sweetness of dairy, without any added sugar.
Indulgence
Dairy has an inherent richness, creaminess and sweetness that creates unique mouthfeel characteristics, a component often missing in plant-based applications. Edlong dairy flavors, however, add back that authentic indulgence. For example, we created plant-based dips with a cashew base. The dips boasted a savory balance of vegan versions of our natural Gruyere and Emmental cheese flavors, along with a bold, daring mix of South American chilies and Aji Amarillo peppers; a vegan sour cream flavor to balance mild spice; and a vegan butter flavor which melded deliciously with a Madras curry blend. These completely vegan products not only captured the authentic taste of dairy, but its smooth, indulgent and creamy texture.
Your Plant-Based Partner
At Edlong, our food scientists are problem-solvers, ready to meet your next formulation challenge. We've worked with multiple bases like soy, cashew, quinoa and oat to create creamy, smooth and delicious plant-based foods and beverages. With more than 250 dairy-free and vegan flavors, we deliver the authentic taste and provide the functional benefits of dairy where it's missing. Says Anne Marie Butler, Applications Manager of Edlong Europe, "Here at Edlong our focus isn't just on flavor—it's on supporting our customers to find the best solutions for them."
You'll be surprised at how versatile our flavors can be. Contact Edlong to be your partner in solving your formulation challenges and make your plant-based products delicious.
---
Topics: Culinary indulgenceMasking & mouthfeelVegan
Resource Type: ArticleThe Art of Flavor