Circana's 2023 snacking survey revealed that 49% of consumers snack more than three times a day! Maybe unsurprisingly, this push is being led by younger consumers, with many opting for snacks instead of sitting down for a meal.
What is leading Gen Z and millennials to go all in on snacking?
For one thing, it offers them a variety of new taste experiences. This is especially true when it comes to experiencing global flavours, with 56% of millennials and Gen Z agreeing that snacking provides an excellent opportunity for them to try these novel profiles.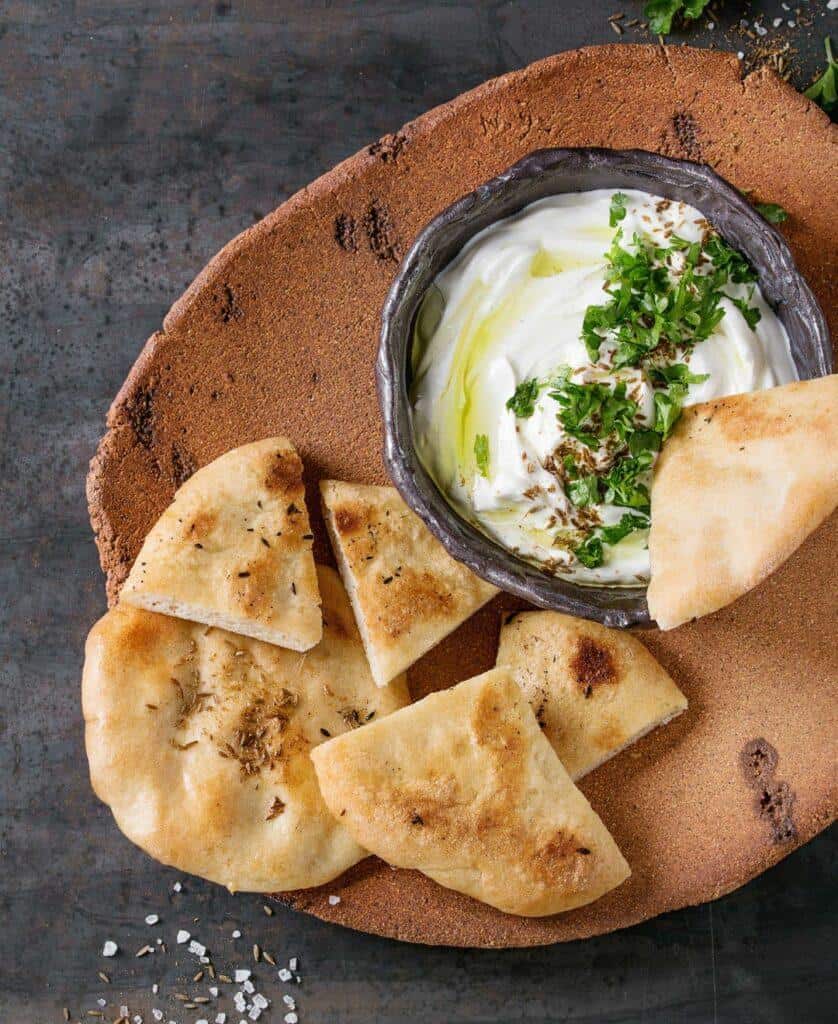 Creating unique, indulgent, and nostalgic tastes with a twist is the goal of many developers looking to meet the needs of these consumers. These were also the aims and inspiration for our
2023 Characterising Flavour Demos, designed to bring a fresh take on Tea Time and School Lunchbox classics.
I reached out to the teams at Edlong Europe, LATAM, and US to give us a sneak peek of what to expect from this year's exciting demos.
Edlong Europe
The demos for the Europe region are Tea Time themed! Check them out!
The Crisp Sandwich
This is a new take on a classic Irish lunchbox staple enjoyed by school-age children and adults alike that also lets us showcase a number of our flavours.
Cheese & Onion flavoured potato crisps: Re-creating a classic Irish characterising flavour profile with a diary-type flavour that balances the onion while adding rich creamy cheese notes at the same time.
Plant-based butter: A vegan butter that matches the creamy, grass-fed notes of Kerrygold butter, perfectly complementing and adding mouthfeel to the crisp sandwich.
Bread: The last piece needed to recreate the iconic crisp sandwich. Sliced and layered with our plant-based butter and cheese & onion crisps, this bread also showcases our heat and bake-stable flavours.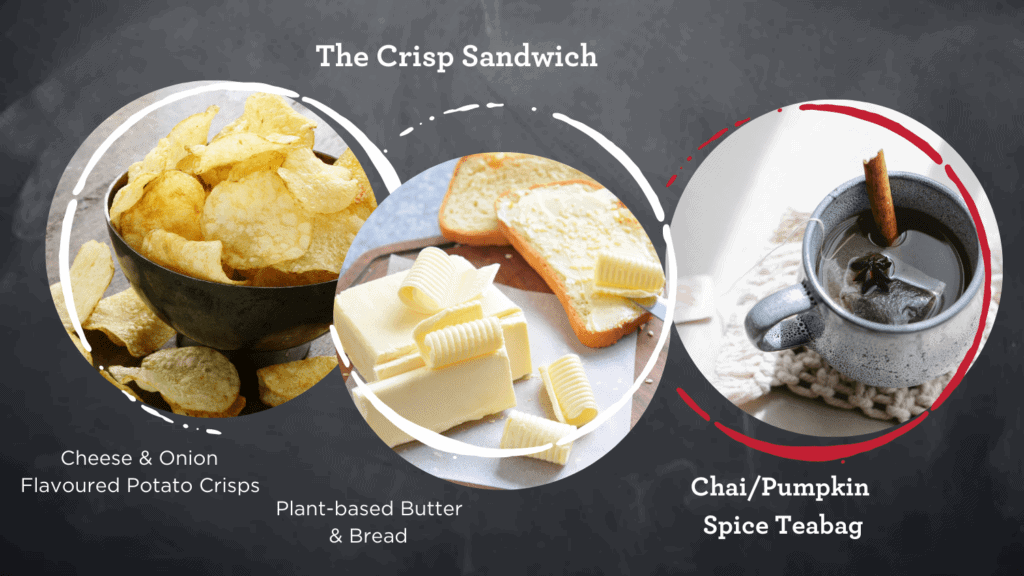 Chai/Pumpkin Spice Teabag
A seasonal twist on the traditional cup of tea inspired by spiced, autumnal beverages.
Using flavours from our sweet dairy range, like our brown sugar, to balance the spiced notes and round out the flavour profile smooth dairy notes.
Edlong LATAM
The characterising flavour demos for LATAM are here! Obtenga un vistazo.
Vegan Edam Cheese
A plant-based cheese made with Edam flavor with pea protein, ideal for snacking and slicing.
The flavors provide an authentic Edam cheese profile, improve mouthfeel, and mask the aftertaste of protein, vegetable fat, and starch.
Vegan Irish Cream Beverage
A vegan alcoholic drink with Irish Cream flavor, ideal for enjoying cold, in cocktails or desserts.
Our flavors provide an indulgent, dairy, creamy profile with notes of caramel, vanilla, and chocolate characteristic of Irish cream.
Creamy Pepper Jack and Cheesy Pizza Crackers
A delicious combination of salty and crunchy crackers with Creamy Pepper Jack and Cheese profiles perfect for any occasion.
Formulated with heat-stable flavors, we created a delicious authentic cheese profile without any actual cheese in the formulation.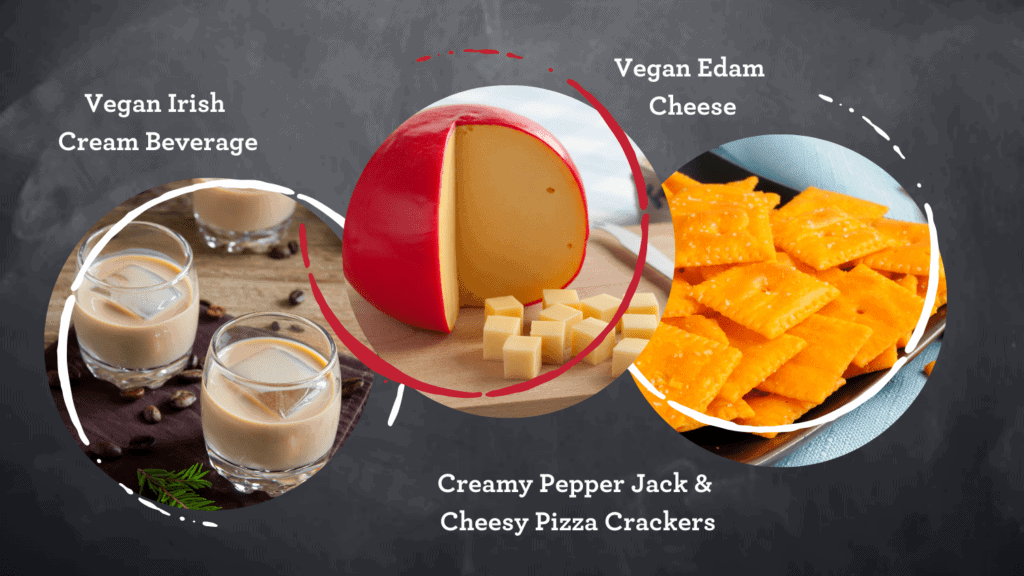 Edlong North America
This are the characterising flavour demos for our North America region!
Smoked Cheddar Carrot Chips w/ Vegan Cream Cheese
The combination of our smoked cheddar carrot chip and vegan cream cheese satisfies your craving for a salty and savory snack that's also healthy, convenient, and unique.
Smoked Cheddar Carrot Chips: The sharp, savory smoked cheddar profile provides a flavorful snack while masking carrot off-notes. This is a dairy-free flavor that's great for plant-based and vegan applications.
Vegan cream cheese: This fava bean spread captures the authentic creamy texture and taste of a dairy spread that consumers are looking for, making it a great dip for savory snacks.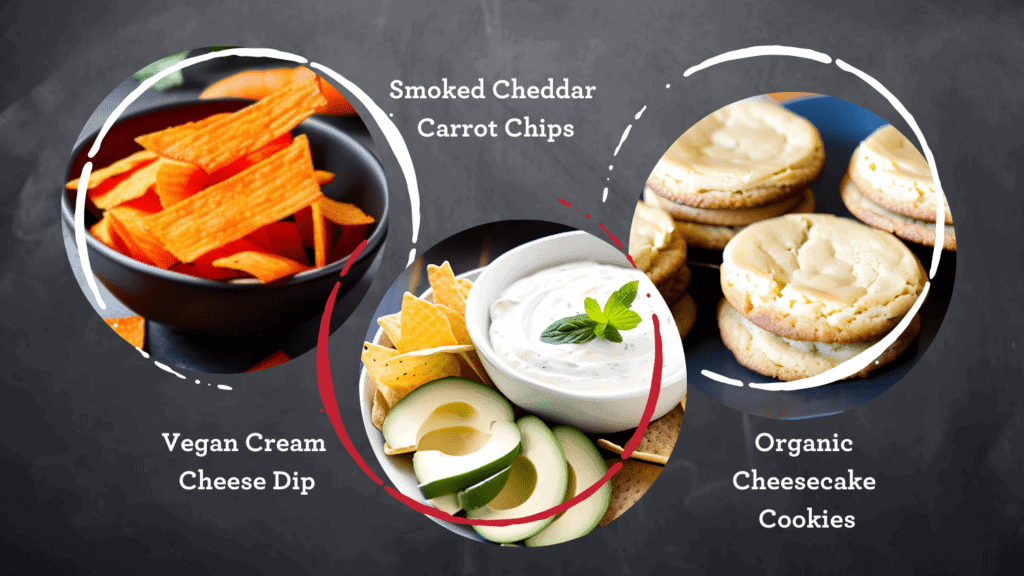 Organic Cheesecake Cookies
The cheesecake cookie is a new spin on two classic desserts. You get the convenience of a shelf-stable handheld cookie with the indulgent taste of cheesecake.
Thin, crispy cookies featuring three flavors that are layered together. We've used a natural cheesecake flavor combined with a yogurt-type flavor and a butter flavor with a cooked note to build the cheesecake profile.
Want to experience for yourself what our characterzing flavours can do for your next development project. Click here to request your own Lunch & Learn Experience Demo, or watch the recording of our Developing Dairy Flavors Deep Dive Webinar.
About the Author: Emily Sheehan, Applications Manager, EMEA
Hi! I'm Emily Sheehan. I'm the Applications Manager, EMEA at Edlong, and my job is rooted in creating exciting new possibilities for our people and processes. It's inspiring to reflect on how much Edlong has achieved and even more amazing to be involved in such thoughtful innovation. We enjoy pushing boundaries in food and flavour, and we welcome everyone in the food industry to join us. If you're in need of expertise or inspiration, I'd love to collaborate and help you design flavour solutions that resonate with consumers!
---
Topics: Characterizing Flavors
Resource Region: EULATAMUS