Edlong is proud to announce that we have received a 2023 Silver Sustainability rating from EcoVadis, the world's most trusted provider of business sustainability ratings, which puts us in the top 25% of companies. According to EcoVadis, "These medals recognize companies that have completed the EcoVadis assessment process and demonstrated a relatively strong management system that addresses sustainability criteria, as outlined in the EcoVadis methodology. Companies must also meet specific licensing and eligibility criteria."
The EcoVadis assessment evaluates 21 sustainability criteria across four core themes: Environment, Labor & Human Rights, Ethics and Sustainable Procurement. Additionally, more than 85,000 companies globally have been rated by EcoVadis.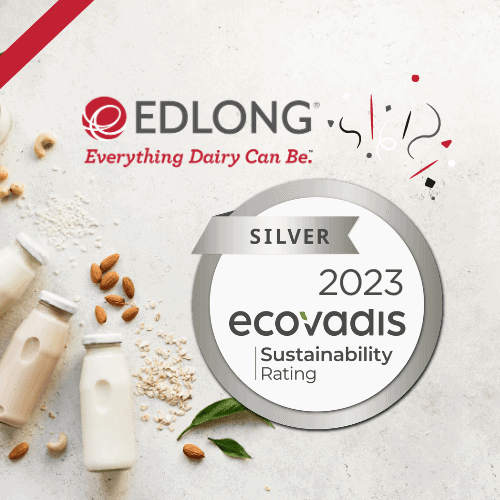 EcoVadis' business sustainability ratings are based on international sustainability standards such as the Ten Principles of the UN Global Compact, the International Labour Organization (ILO) conventions, the Global Reporting Initiative (GRI) standards and the ISO 26000 standard. These ratings provide an evidenced-based analysis on performance and an actionable roadmap for continuous improvement. 
On behalf of the Edlong Sustainability Team, Binu Nair, Director of Food Safety and Quality, states that Edlong values sustainability & ESG as a significant part of its social responsibility and success. "We have come a long way from Bronze to Silver through our collective constant improvement mindset, but there is still a lot more to do. We will continue this journey identifying and addressing the challenges towards a higher score and for a better future for all on this planet Earth," she says.
Transparency and sustainability are an important part of Edlong's journey towards improving the environment and society. Thank you to everyone involved in helping Edlong improve its sustainability rating from Bronze to Silver this year!
Learn more at EcoVadis.com/suppliers
---