---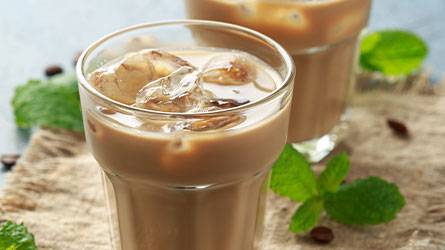 Nearly two-thirds (65%) of consumers worldwide are eating more plant-based foods and beverages. The global dairy alternatives market alone is expected to reach nearly $30 billion in annual sales by 2023. With these numbers, it's no surprise so many plant-based foods and beverages are being introduced.
Unfortunately, taste still seems like an afterthought to many plant-based product developers … along with a bitter aftertaste. Yet, according to Mintel, taste remains the most important driver of consumer food and beverage purchases. Here are three key elements to consider when creating delicious plant-based foods:
1. Begin with the Base
Edlong flavors can accelerate your R&D time when they are added at the beginning of a formulation, where they can bring a plant-base to neutral. They can also be added to enhance fatty mouthfeel without dairy, mask waxy or greasy notes from palm or coconut oils, and add back freshness in shelf-stable products.
2. Different Applications, Different Uses
Flavors behave differently from application to application. At Edlong, our flavor scientists incorporate research and flavor tools to support our product development process through sensory analysis, with the goal of conducting reliable tests that provide data to make sound, informed decisions. By continuously experimenting with variations of flavor compounds, we can understand what key flavor components mask or enhance taste characteristics.
3. Work with Us
Fortunately, among Edlong's always-available flavors are more than 250 authentic, dairy-free profiles that help deliver dairy flavor, richness and mouthfeel to plant-based applications, while masking the undesirable taste characteristics. Our flavorists can customize any of these to meet your particular application.
Showcasing Plant-Based at IFT
In case you missed us at the National IFT in New Orleans, the growth of plant-based products was front and center. We talked about the Art of Possibility, and how dairy flavor technology can invent new profiles and re-imagine the use of existing ones. We also discussed how Edlong flavors can provide the richness and mouthfeel that are often lacking in better-for-you products.
Among the many innovative tastings we shared at the show was a trio of vegan, plant-based dips. Each dip started with a cashew base and we added natural flavors to mask the plant protein off notes. Different spices were used to create three unique and creamy regional profiles: an Aji Amarillo Emmental Dip, a Butter Curry Dip, and a Zesty Sour Cream Dip.
Plant-based demand continues to grow. Fortunately, Edlong is here to help you meet that demand. You can read more about our plant-based benefits, and how we are reinventing dairy taste, in our whitepaper: Making Plant-Based Delicious.
To experience the art of authentic taste, please contact
Gina Hafele at ghafele@edlong.com or 1.719.339.609
---
---
AI and the Science of Flavor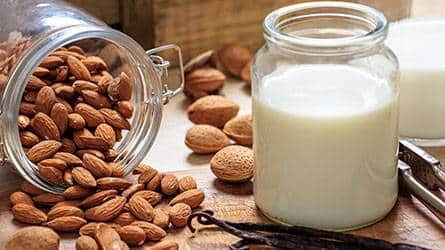 At Edlong, we are in the business of delivering great flavor. We're constantly looking for ways to innovate, and for new techniques to help us uncover the tastes consumers prefer. That's why we have recently engaged an exciting new artificial intelligence platform for in-house use. The AI models human sensory perception of flavor, aroma and texture to predict consumer preference. We can use AI internally to gain a better understanding of how our flavors perform in certain applications, and how they impact consumer perception of a finished product.
In light of the considerable growth of plant-based products and dairy alternatives, one of the first products we wanted to research was almond milk. Our findings were surprising, as some unexpected profiles were uncovered that are predicted to have greater consumer acceptance. For example, we learned that natural, dairy-free versions of Edlong flavors such as cream cheese and graham cracker crust can create a finished almond milk flavor profile that scores high in consumer preference testing. We can use these learnings to help you accelerate R&D time and optimize finished product profiles by predicting consumer perceptions and preferences.
Our use of AI is merely another tool for us to use in our research kitchens to assist us in our continual quest to uncover new, surprising uses for dairy flavors. Often, our best tool is our experience. For example, to build the body and mouthfeel of a beverage, our flavor scientists recently used a mozzarella flavor. That wasn't an obvious solution, but flavor science is as much art as it is science. The art of flavor science relies on instinct gained from our years of experience, and tools, including new internal tools like AI, that will help us continue to master the art and science of flavor.
Our Applications Scientists are constantly working on new ways to use flavor. Ask us what we're working on now!
To experience the art of authentic taste, please contact
Gina Hafele at ghafele@edlong.com or 1.719.339.609
---
---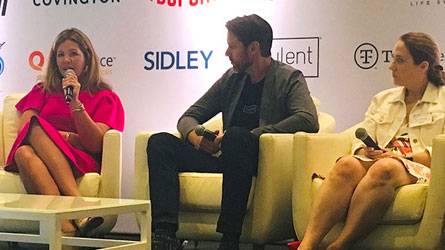 June was a busy month for us! It began with the National IFT in New Orleans from June 2nd to the 5th. In mid-June, the FutureFoodTech conference was held in New York. This conference highlights new or emerging companies and technologies "from food to fork." Our CEO, Laurette Rondenet, participated in a panel titled, "The Future of Snacking: How are Changing Consumer Lifestyles and Preferences Influencing our Eating Habits?", alongside PepsiCo's Vice President of Global Snacks R&D, Lucia Ponginebbi. We ended the month with the WBENC National Conference in Baltimore. This convention, which is highly attended by corporations and suppliers alike, promotes and encourages diversity in the supply chain. Also, we were all excited to see PepsiCo's We USA newsletter proudly supporting their diversity suppliers, including Edlong (read the full article here).
To experience the art of authentic taste, please contact
Gina Hafele at ghafele@edlong.com or 1.719.339.609
---
More Resources For You
---
---
Topics: Culinary indulgence