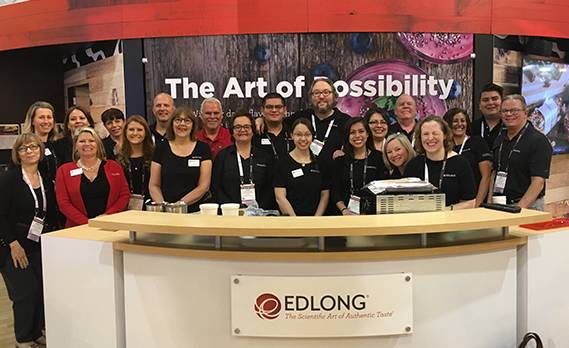 At IFT, we showcased the Art of Possibility, demonstrating how we use innovative dairy technology to invent new profiles and re-imagine the use of existing ones. Among our many highlights were numerous tastings and two special interactive sessions.
The Art of Plant-Based
During this IFT presentation, we discussed how functional, natural dairy flavors can be an important tool to use at the beginning of the product development process. We focused on the surprising function of natural, dairy-free flavors in plant-based applications. We also talked about (and tasted!) how Edlong flavors, including those that don't contain any dairy, can add the character of dairy as well as the attributes of richness and mouthfeel that are often lacking in better-for-you products.
During our discussion we shared our Vegan Zesty Sour Cream Dip. This plant-based dip begins with a cashew base, and is made savory and indulgent with mild tabasco pepper and other herbs and spices. We also used an Edlong Sour Cream flavor that is completely dairy-free and vegan, yet adds creaminess and balance.
The Science of Better-for-You
We know that working with healthier applications presents challenges. We talked about how innovative dairy technology and natural dairy flavors can function in applications with less sugar, sodium or fat, and products with added protein or fiber. Edlong food scientists talked about how they break down the key components and reactions that can occur in a dairy matrix like milk, cream or butter to create authentic, natural flavors that enhance sweet, savory or fatty mouthfeel characteristics.
This interactive seminar featured a tasting of our Mocha Iced Coffee. Our reduced added sugar mocha beverage uses Edlong® Sweet Spot technology to enhance the perception of sweetness and mouthfeel. The coffee's milk and caramel notes are balanced along with a natural Edlong Chocolate flavor to create a delicious beverage with less added sugar than traditional bottled coffee beverages.
Additional Tastings:
Lemon Feta Cottage Cheese Ice Cream with Lemon/Basil Cookie
We used innovative dairy technology to make a unique frozen dessert from cottage cheese. Our natural Feta flavor highlighted the cultured notes of the cottage cheese and balanced the tangy lemon profile. We garnished this dessert with an equally indulgent and delicious plant-based lemon/basil cookie.
Flight of Cashew Dips
Another item showcasing our innovative dairy technology, this trio of dips was completely vegan and made from a unique cashew base. The flight featured three entirely different global profiles and highlighted the notes and nuances that natural, vegan dairy flavors can add to vegan products. The featured profiles were Zesty Sour Cream, Aji Amarillo Emmental and Butter Curry.
Vegan Cheese Bread
The perfect dipper to enjoy our vegan dips, this gluten-free breadstick used natural milk and butter flavors in a completely vegan baked product.
Mango Tea
A delicious beverage with 40% less added sugar than traditional ready-to-drink teas. Edlong® Sweet Spot flavor enhanced the perception of sweetness in this summertime refresher.
Want to Know More About Our Innovative Dairy Technology?
See what you missed, and download any of our tasting demo cards here. To learn more about how we're incorporating innovative dairy technology to re-image authentic dairy taste, contact us today.
---
Topics: Dairy flavorsDairy-freeVegan
Resource Type: The Art of Flavor